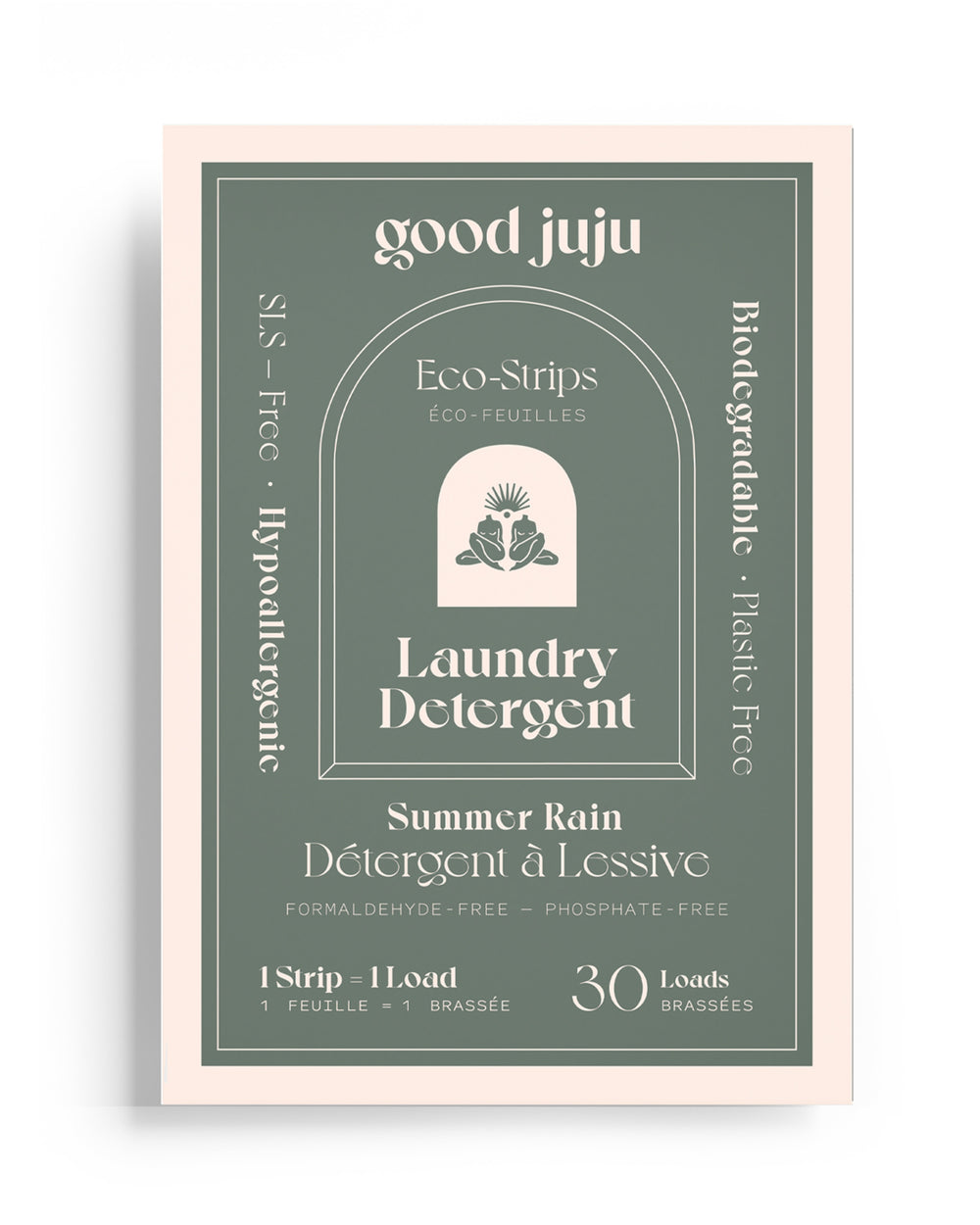 Good Juju Scented Laundry Strips
Description
Created by the awesome team at Good Juju.

This laundry strip formula is super-concentrated, containing no water and requiring no plastic bottle. 

Pre-portioned strips contain exactly the detergent needed for one load of laundry.

Dissolves completely in hot or cold water.
Works in all washing machines, including HE.
Safe for hand-washing, and for use in septic systems.

Made in Canada with all-natural & certified organic ingredients in plastic free packaging.

Hypoallergenic, readily biodegradable, vegan friendly, and gentle enough for even the most sensitive skin.

Free of hormone disrupting parabens, phosphates, added dyes, chlorine bleach, 1,4 dioxane, SLS, and formaldehyde.



Scent: Summer Rain scent.

30-strips / envelope: each package prevents one 1-litre plastic jug from entering the landfill, and results in a 94% reduction in transport-related greenhouse gas emissions, compared to liquid alternatives.
This product is a final sale.
Ingredients
Vegetable glycerin, starch, PVA, potassium sorbate, light mineral oil, cocamido propyl betaine, sodium gluconate, lauryl dimethyl amine oxide, sulfonic acids, C14-16-alkane hydroxy and C14-16-alkene, sodium salts, glycereth cocoate, caprylyl glucoside, octyl glucoside, fragrance oil blend
Care
Comes in fully Recyclable Packaging - Please choose to recycle the exterior package when you're done.
Item added to cart
There was an error. Try reloading the page and try again.