Chapter 1 /
Sharing Stories
OCIN Viewpoints Part II
Intro and Words: Courtney Chew
Research and words: Talya Wong
The oceans are our muse, our energy, our source of oxygen, nourishment, healing. Our ecosystem of life. Our Oceans, our Planet Blue.
Over the years we have used our channels to learn and share awareness of this body that emotionally and physically connects us. Welcome to OCIN Viewpoints — our ocean awareness project designed to help us dive deeper into learning and connecting with this magnificent ecosystem, together.
Originally content designed for our socials, we decided to compile everything to share online here with you. You'll find content to spark curiosity about our oceans, inspire action, and celebrate one of the largest ecosystems that surrounds us, connects us, and gives us life.


Part II of our series is below. Read Part I here. 
More on our Instagram. 
The Ocean makes up 70% of the Earth's surface and is 97% of the Earth's water supply. It generates more than half of the oxygen that sustains life on the planet, while regulating our climate, supporting our economy, and offering us a source of nourishment, outlet for healing, and way of living.The Oceans are also home to millions of plants and species from microscopic single-celled organisms to the giant Blue Whale, the Earth's largest animal – and millions others that remain unnamed, that are still unknown to us.Our connection to water is also a huge part of our existence. We are built with water and made of water – it's vital to our survival and the life of every cell. But, the sense of calm we feel when we hear the sound of waves, or see the sun setting over the ocean, is also a part of a primal response  – The "Blue Mind" Effect. When we are near, in, on, or underwater, we relax and activate a different brain network, leading to introspection and connection with nature.The Oceans are magnificent, vast, truly limitless. Full of mystery, beauty, discovery, and learning. We are deeply connected to this ecosystem and it's in our hands to respect, care for, and protect this life source that gives us so much.
What is World Oceans Day?
A day dedicated to uniting and rallying the world to protect and restore our blue planet. To inform the public of the human impact on our oceans and develop a global movement for sustainable management through collaborative conservation. 
Oceanic Global: Theme for WOD June 8, 2022: Revitalization: Collective Action for the Ocean.
Conservation Action Focus: "The 2022 Conservation Action Focus: Protecting at least 30% of our blue planet by 2030 for a healthy ocean and climate." 
"For nothing is fixed, forever and forever, it is not fixed; the earth is always shifting, the light is always changing, the sea does not cease to grind down rock. Generations do not cease to be born, and we are responsible to them because we are the only witnesses they have. The sea rises, the light fails, lovers cling to each other and children cling to us. The moment we cease to hold each other, the moment we break faith with one another, the sea engulfs us and the light goes out." — James Baldwin
A few Ocean, Water, Earth Advocates and organizations to follow:
Xiye Bastida @xiyebeara 
Autumn Peltier @autumn.peltier
Melati Riyanto Wijsen @melatiwijsen
Jerome Foster II @jeromefosterii
Cliff Kapono @cliff_kapono
Ocean Ramsey @oceanramsey
Cyrill Gutsch @cyrillgutsch
Dr. Ayana Elizabeth Johnson @ayanaeliza
Willow Defebaugh @willowonearth
Rafael Bergstrom @rafsworld808
David Suzuki @davidsuzukifdn
Textured Waves @texturedwaves
Seven Clean Seas @sevencleanseas
Urban Ocean Lab @urbanoceanlab
Surfrider @surfrider
Sustainable Coastlines Hawaii @sustainablecoastlineshawaii
Charity water @charitywater
Sea Trees @sea.trees
Ocean Impact Org @oceanimpactorg
Onlyone @onlyone
Re-Earth Initiative @reearthinitiative
Ebony Beach Club @ebonybeachclub
Parley for the Oceans @parley.tv
Ocean Legacy @oceanlegacy
All we can save @allwecansave
Oceanic Global @oceanic.global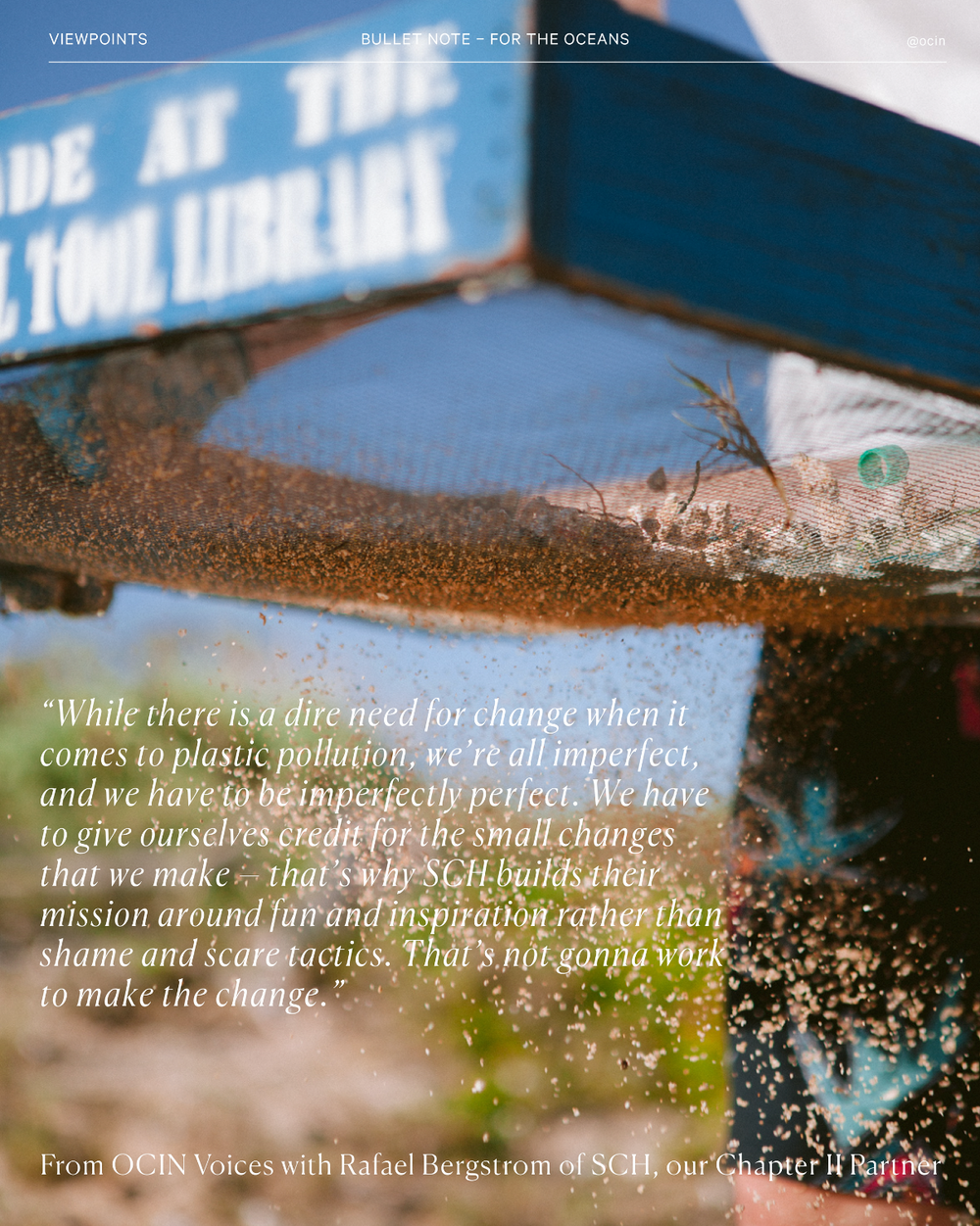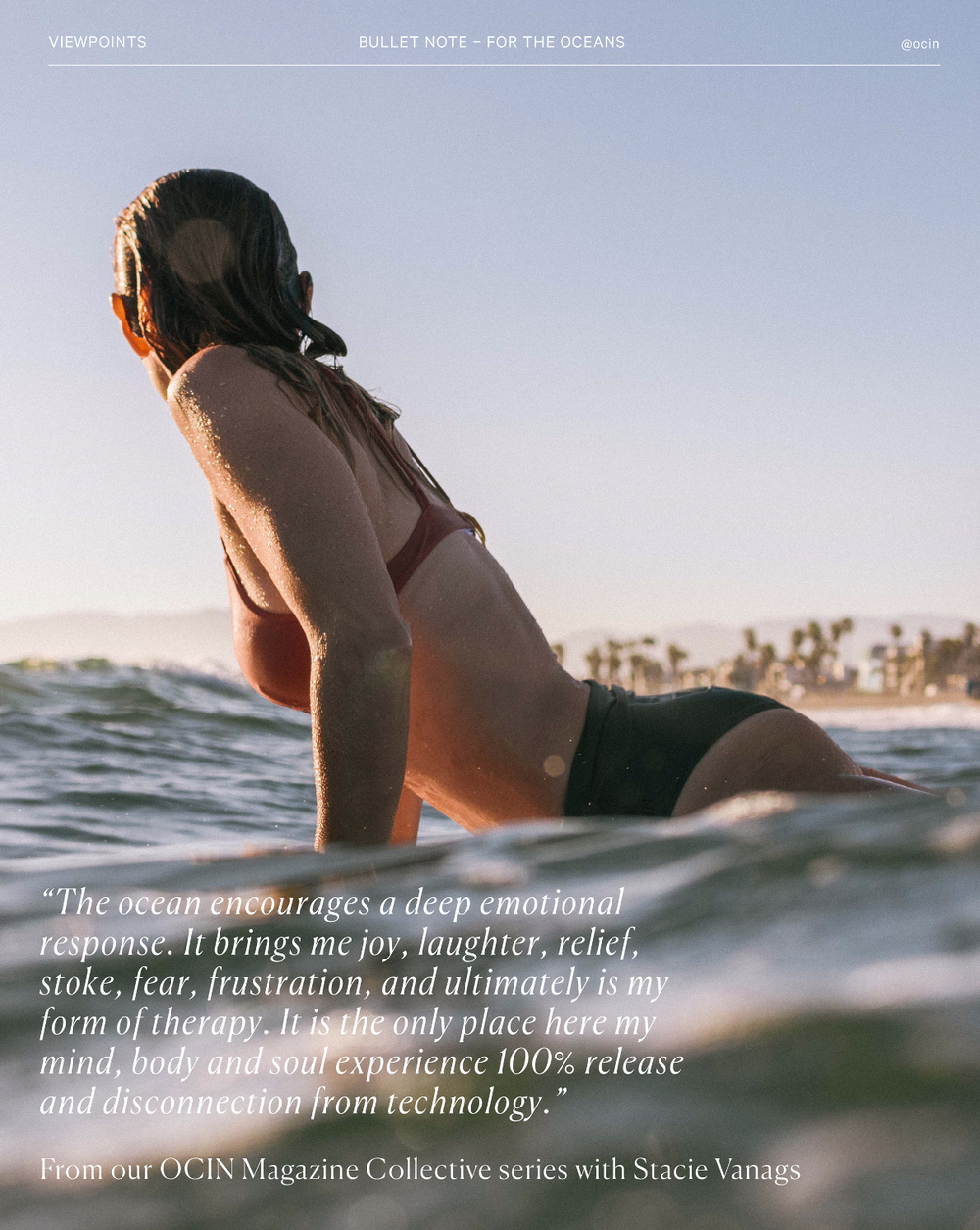 A deeper dive: ocean conservation organizations we admire
Surfrider
@surfrider 
The Surfrider Foundation is a global environmental non-profit organization that is dedicated to the protection and enjoyment of the world's ocean, waves, and beaches, for all people, through its powerful activist network. With over 176 chapters and student clubs around the world, they are driving a just, equitable, diverse and inclusive organization for all who protect and enjoy all of Earth's water. 
We admire their commitment to fighting for plastic reduction, ocean protection, coastal preservation, clean water, and beach access for all in a manner that is approachable and inspiring to be a part of. 
Surfrider taught us that every little step counts in protecting what we care for.  
Surfrider Vancouver 
@surfridervan 
We are extremely honored to be a part of the Surfrider Vancouver Chapter community; a 100% volunteer-led chapter. Our connection to Surfrider Vancouver began with our founder, Courtney, volunteering for the chapter. Since OCIN's launch in 2018, we have been collaborating on events and initiatives over the past four years. Together, we have co-hosted more than three hundred members, bridging our communities over four beach cleanups (and counting) locally in our city. As our chosen non-profit partner for Chapter I, the OCIN collective was able to donate over $1200 from our swim sales in support of the work that they so graciously do. 
Sustainable Coastlines Hawai 'i
@sustainablecoastlineshawaii 
Sustainable Coastlines Hawai 'i is a grassroots, non-profit organization run by a small team of dedicated staff and supported by passionate volunteers out of our home away from home on O 'ahu. They inspire local communities to care for their coastlines through fun, hands-on beach cleanups. They also coordinate educational programs, team building corporate cleanups, waste diversion services, public awareness campaigns, and help others organize beach cleanups. 
We appreciate our relationship with the SCH team as they inspire and teach us the power of bringing the community together – to not only take action at the beach, but to also be a proponent for larger policy change. As our Chapter II non-profit partner, we were able to join in on their beach cleanups on the island, feature their Executive Director, Rafael Bergstrom to share important dialogue with us and our Hawai 'i family through an OCIN speaker panel, and raised over $1000 through our swim sales to support their mission. 
Oceanic Global
@oceanic.global 
Oceanic Global inspires us to care deeply for the ocean while also providing us with the solutions to protect it. The international NGO sheds light on humanity's essential relationship to the ocean and empowers individuals, communities, and industries to create positive change. Oceanic Global creates educational experiences, consults on sustainable operations, and engages local communities to generate measurable impact for our collective wellbeing.
We admire them for the educational platform and resource that they are, and for leading the movement to protect our oceans with initiatives such as Blue - a first-of-its-kind standard and global three star verification system that encourages businesses to make a continuous commitment to sustainability, while celebrating incremental achievements along the way. Through Blue, they also provide businesses with robust programs and free open-source resources to help achieve measurable impact to protect our Blue Planet. 
charity: water
@charitywater
charity:water is a non-profit organization bringing clean and safe drinking water to people in developing countries.  
With over 771 million people, which equates to nearly 1 in 10 people worldwide, who lack basic access to clean and safe drinking water, charity:water oversees and develops community-owned water technologies, sanitation projects, and hygiene programming to ensure long-term and sustainable access to this fundamental resource.
In countries without clean water, children and women are often required to walk for hours to a water well, which keeps them out of school or out of work. Access to clean water means access to education, income, health, and valuable time.
charity:water was one of the first non-profit water organizations that our founder, Courtney, was connected to. As an ongoing Spring donor since 2017, she and her personal community raised over $3600 to help fund a drilled well for a school in Mozambique. Since then, OCIN has raised money through our Clean Water Fundraiser that took place on Black Friday in 2019 to support their mission to provide clean and safe drinking water for countries in need.
Seven Clean Seas
@sevencleanseas
Seven Clean Seas is an ocean clean up organization that has developed the world's first plastic-offsetting service. They work with companies to pull plastic out of the ocean on their behalf as a way of neutralizing the impact they make on our planet and seas. 
We are inspired by their mission to preserve the marine environment by ridding the ocean of plastic for good through their Nearshore Cleanup Projects, River Cleanup Projects, Waste Management Infrastructure, and the vision to empower impacted coastal communities. 
They exist to clean, conserve, and educate, with the goal of recovering over 10,000,000 KGs of plastic pollution by 2025 from the top seven worst plastic polluted countries in the world. 
So far, they have pulled 442,890 KGs of plastic pollution out of the ocean since their inception.
Urban Ocean lab
@urbanoceanlab 
Urban Ocean Lab is a non-profit think tank for the future of coastal cities. For UOL, they believe that coastal cities are leaders in climate and ocean policy, implementing science-based and forward-thinking strategies ensuring environmental justice for coastal communities, and serving as a laboratory for state and federal initiatives. 
Co-founded by one of our favorite marine biologists, Dr. Ayana Elizabeth Johnson, Urban Ocean Lab is driven to cultivate rigorous, creative, equitable, and practical climate and ocean policy. Her team shared with us some of their goals for the year, including the development of a thoughtful, solutions-led framework that is designed to protect our coastal cities, support the communities, and take actionable steps to save our oceans and our planet. 
A few of the themes they have us thinking about: Preparing for sea level rise; restoring coastal ecosystems; adapting and redesigning infrastructure; developing renewable offshore energy; promoting more just and inclusive climate policies and decision-making; and increasing community education.
What we are curently watching, reading, and listening to, empowering perspective about the oceans.
To watch: 
TED-Ed: Dr. Ayana Johnson + Megan Davis Underwater Farms vs. Climate Change
• We learn about overfishing and the concerns surrounding wild fisheries
• We learn about the idea of restorative ocean farming
• We learn that a series of small farms could collectively feed the entire planet
Nowness: Salt in our Blood
• A film and visual essay by Frederick Paxton exploring the dysfunctional  relationship between humans and the ocean
The Blue Planet: A Natural History of the Oceans 
• A BBC produced documentary-series narrated by Sir David Attenborough,  revealing stunning, never-before-seen ocean footage that is equally devoted to  nature and conservation as well as an artistic statement. 
My Octopus Teacher 
• A 2020 documentary that follows a filmmaker who forges an unusual friendship with an octopus off the coast of South Africa. It beautifully records the animal's entire life over the course of a full year and explores the habits and personality of this strange and marvelous creature that we should protect.
The Story of Plastic
• Understanding and uncovering the truths behind plastic pollution, plastic recycling, and its impact on the Earth and the oceans.
TO LISTEN: 
Podcast: 
How to Save a Planet – Ologies dives into coral
Podcast: 
Talking Trash – A conversation about climate change: Billie Eilish x 
Dr. Ayana Johnson 
Podcast: 
Ologies – Selachimorphology (Sharks) encore with Chris Lowe and 
Alie Ward
Podcast: 
Waterpeople – John Florence, Navigating Edges 
Podcast: 
Ocean Impact – Dr. Cliff Kapono on Indigenous Voices for the Planet
*we are just sharing one episodes from each podcast to start off with, but we highly recommend taking a listen to other ones that they have done!
TO READ:
Non-Fiction Book: Deep: Freediving, Renegade Science, and What the Ocean Tells Us about Ourselves, by James Nestor
Non-Fiction Book: The World is Blue: How our Fate and the Ocean's are one, by Dr. Sylvia Earle
Online Editorial:  SIDE-NOTE: Still Waters Run Deep
OCIN Article: Into the Deep, by Steph Baker
OCIN Article:A Blue Mind, by Steph Baker
Magazine Article:NY Times: Astronaut Kathryn Sullivan – first American woman to walk in space reaches deepest spot in the ocean
Life in the oceans:
Over 80% of the oceans remain unexplored, unmapped, or even seen by humans. The oceans are home to millions of species with an estimated 90% still undiscovered. We're sharing a few of the beautiful life we know of that exists underwater, that remind us why we should care. View some of our favorite underwater creatures here.
Our ethos is motivated by the oceans and the opportunity we have to bridge communities to do what we can for this ecosystem; using OCIN as a platform to build perspective and connection that transcends into all else that we care about. From collaborating with non-profit ocean conservation partners we admire, to designing resources for our community such as OCIN Viewpoints, we hope that this series has inspired a newfound connection and curiosity towards the oceans and all that it provides, within you. For us, Viewpoints is a way to dive a little deeper and encourage an ongoing commitment to share dialogue and perspective – to make the conscious choices to protect and care for this Blue Planet that we all call Home. Thank you for learning and exploring with us.