Chapter 1 /
Sharing Stories
Talk Story Session | Oahu Edition
Hawai'i is pure magic. It holds a special place in many people's hearts and is a particularly meaningful place for us. It's where we've been coming to chase the sun and the waves for close to three decades and where the concept for OCIN was born. 
On Thursday, March 14, 2019, we hosted an intimate Talk Story Session on Oahu in Hawai'i, in collaboration with The Surfjack – a swell little spot and one of our favorite boutique hotels in Waikiki. We brought together some of our local friends on the Island, to dig into how we as brands, individuals, locals, and tourists can positively impact the movement of living more consciously, no matter where around the world we may be, as a visitor or as a local to the place we call home.
It was an amazing and intimate evening connecting over like minds, warm conversation, and poolside sunsets. We felt so lucky to have had the opportunity to bring together the community and host a special Talk Story Session alongside amazing humans who embody all of what OCIN stands for, and that run brands we admire.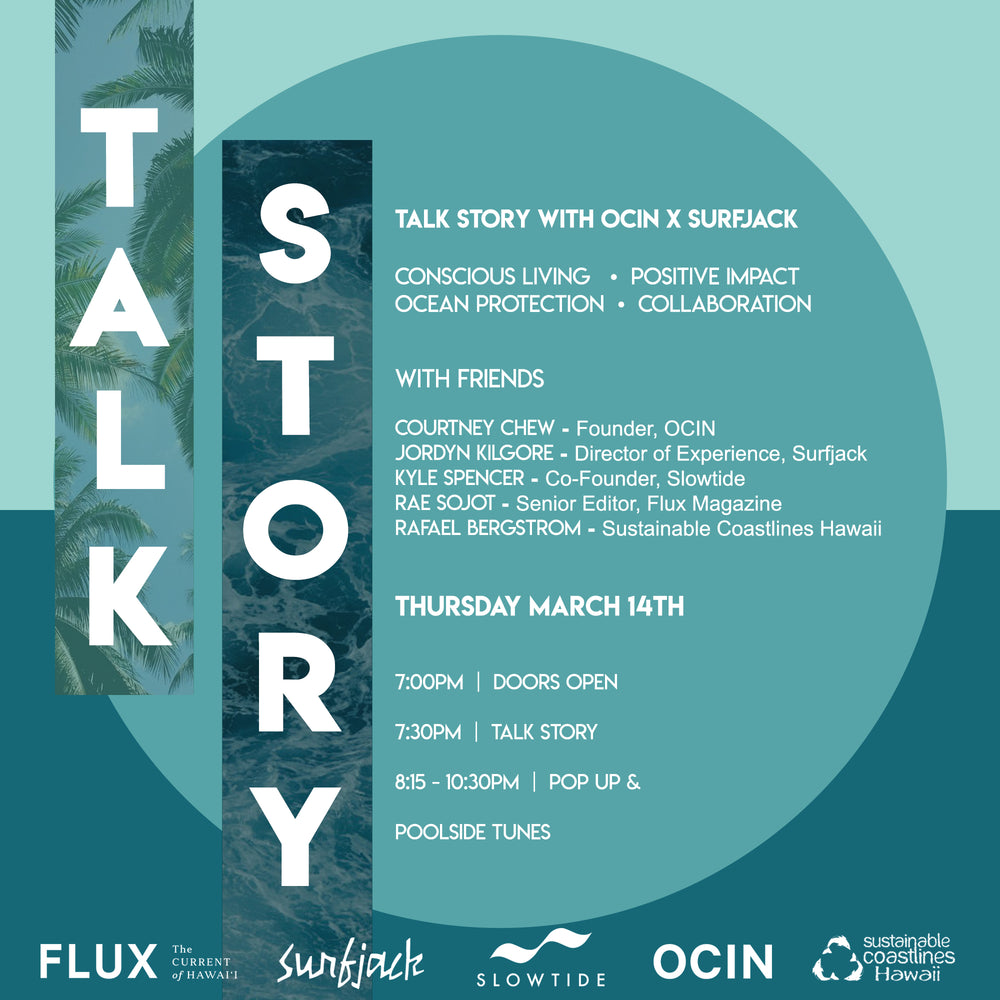 A special thanks to these individuals who shared the panel and their hearts with us: 
Kyle Spencer | Co-founder, Slowtide – a lifestyle brand based between California and Hawai'i, creating beautiful towels that are responsibly made and promote the arts and giving back. 
Rae Sojot | Senior Editor, Flux Magazine – one of the many publications of the Nella Media Network, dedicated to the socially conscious, forward thinking demographic, and sharing stories of local art, culture and the history of Hawai'i. 
Cliff Kapono | A professional surfer, chemist and journalist from Hawai'i who uses science to highlight our relationship and connection with nature and our impact on each other. He is a leader advocating for and bringing awareness to the health of our oceans and the protection and documentation of our changing environment. 
Jordyn Kilgore | Director of Experience, The Surfjack Hotel and Swim Club – one of our favorite hotels on this Island, that have been active in their commitment to protecting the environment, leading the way with reducing their single use plastics by offering reusable bottles and hydration station and hosting events that share awareness to important topics such as these. 
Rafael Bergstrom | Executive Director, Sustainable Coastlines Hawaii – a grassroots local nonprofit that are deeply committed to protecting these coastlines, by educating, bringing awareness and organizing beach cleanups.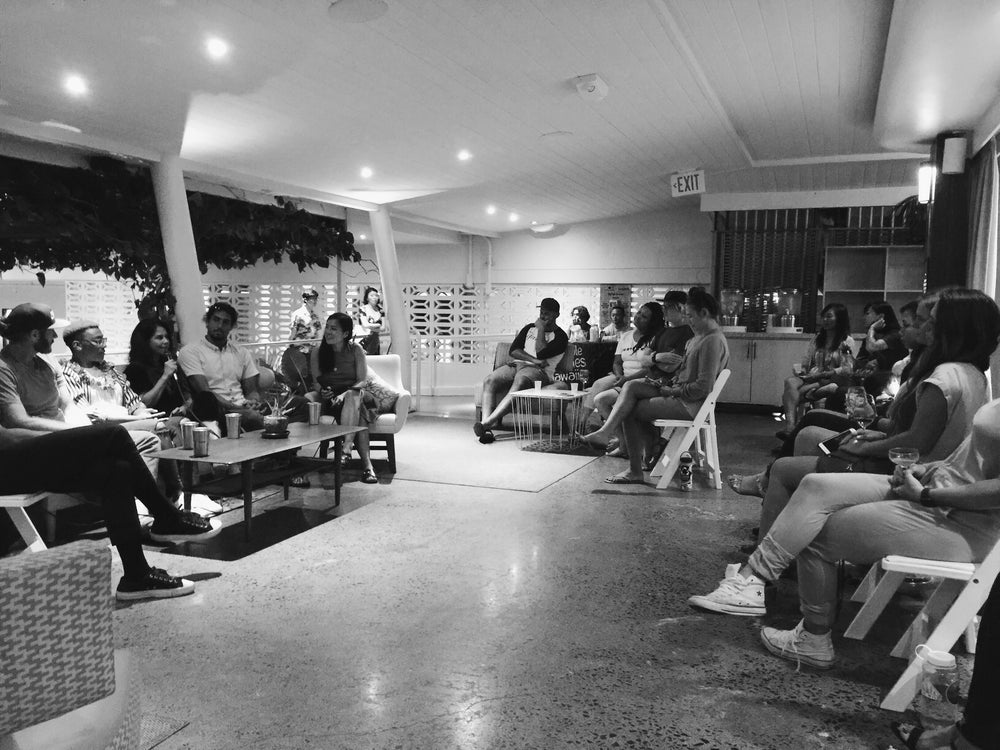 The Conversation: 
• Starting small is better than not starting at all. An easy way is to attend events and learn from organizations around the world. If you're traveling and visiting, do a little research to see if there are any events that you can take part in while on your vacation. Sustainable Coastlines Hawai'i and Surfrider Foundation Oahu host beach cleanups regularly and are examples of two organizations committed to keeping these Islands beautiful and healthy that you can get involved with! 
• Travel smart – bring a reusable water bottle with you, pack some extra tote bags, stay at hotels that do their part in reducing their impact, and if you're heading to the sun, make sure to pick up reef-friendly and natural sunscreen to protect our corals and our reefs.
• Shift the perspective of the conversation and know your audience. If you're having a hard time having these conversations with your friends, your peers, your company, your bosses, see what angle they're coming from and present it to them in a way that resonates with them. 
• Alternatives (and cost-effective ones too) exist, it just takes a little bit of research and time to find them.
When traveling, let's treat the places we visit like it's our home. Travel well, but also with heart, awareness, and responsibility.
• There are certifications and brand audits that companies do to hold themselves accountable to their environmental impact. But, in addition to brands, us as individuals and consumers can as well. Think about your Environmental Impact Audit that you can do on yourself, to be aware and learn about how you're playing into this. 
• Think about all the things we use in our life, all the decisions we make, and think about what goes into creating the things that we have. It's not about being perfect but we should be challenging ourselves to have a consciousness and be responsible for our individual actions, and then share that consciousness with our friends and community as well. 
• Travel gives us the opportunity to connect with others' stories and cultures, and shows us what exists outside of our bubble. But, often when we travel, everything seems temporary – we're there for a short while, experiencing all the good and the new, and forgetting that our impact on that place remains forever, after we're gone. So, when traveling, let's treat the places we visit, like it's our home. Travel well, but also with heart, awareness, and responsibility.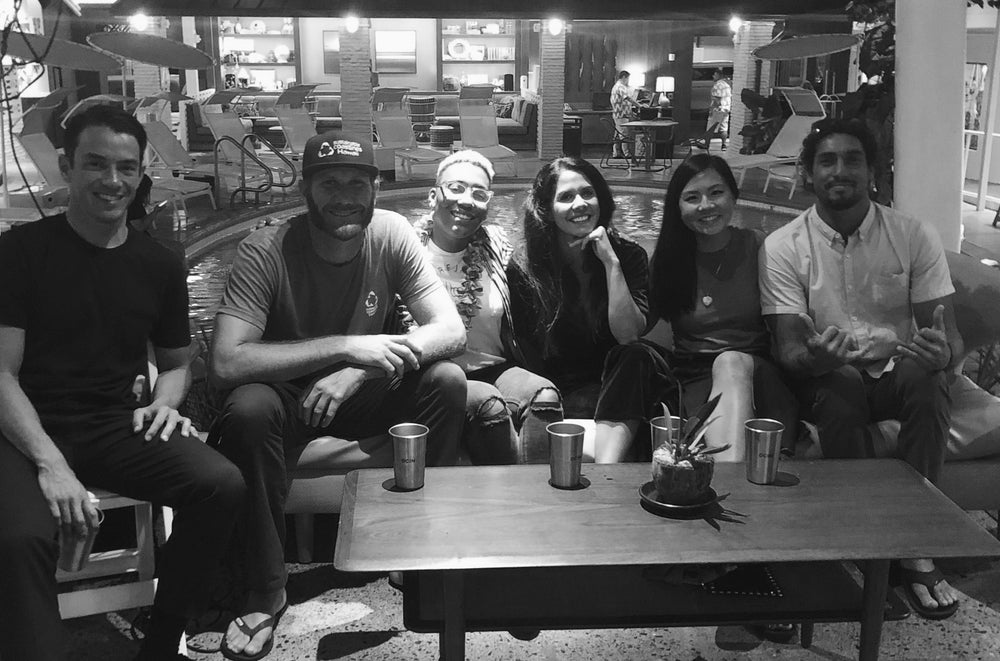 Thank you Jordyn and The Surfjack team for hosting us, Chanelle Gallafent for the poster design, and to all that came out to our event. Mahalo for sharing your Home with us.
To stay connected for our next one, make sure to sign up for our Newsletter.