Chapter 1 /
Sharing Stories
Mind-full with May Ann Villanueva
Words: Hannah Chew
Interview and Photos: May Ann Villanuenva

We had the opportunity to chat with the founder of Studio Fundamentals, May Ann Villanueva, who runs a beautiful design and ceramics studio right here in Vancouver. May Ann is a Filipinx designer, with a background in communication design, whose work is influenced by both Asian and Western culture. Currently, her studio acts as a space where she is able to design, create, and teach ceramics; a hobby which has blossomed into a career since she first began 8 years ago. Though ceramics is currently an avenue that allows May Ann to develop her design practice, she identifies more as a designer, and is passionate about critical, speculative, and system design. 
Read below for our full interview with May Ann. 
OCIN: How did Studio Fundamentals come about, and what does the word "Fundamental" mean to you?
May Ann Villanueva: The name Fundamentals came about during my third year in university. During this time, I was doing design projects revolving around food scarcity, poverty, racism, human happiness, and health. Based on the things I was learning, I felt that we, humans, are straying away from the fundamentals of what connected us all. Empathy and humility are fundamental in understanding others, food and water are fundamental human needs, love is fundamental. Design has its fundamentals — colours, grid systems, research, etc. Everything has a foundation, a fundamental.  I believe in the importance of knowing the fundamentals of things for us to be able to develop a humanitarian way of thinking and evolving.
OCIN: Take us through the creation of a Studio Fundamentals piece, from the planning stages to the final product.
MAV: My process in designing any collection is very much all over the place. A lot of the time I start out by just throwing on the wheel without a specific direction in mind and just making for the sake of making. I love creating mood boards and product testing. I make sure that I emphasize on the human experience with whatever I make. With dining ware, I think about how one might want to experience eating their food and how that would affect the longevity of the product in their home. I'm very careful and meticulous about picking colours because I want to be sure that the colours are long-lasting rather than seasonal. I'm a messy worker and I've embraced that about myself and how it can be traced back to my products. I see them as details of my process that I choose to share with whoever ends up with my work. I guess I want the person to see that the object was made by hand and not a machine; the imperfection of being human.
OCIN: How do you navigate the architectural aspects of ceramics? What inspires the shape and form of your pieces?
MAV: The best way I can explain this would be through my understanding of typography. Good typography has a balance of curves, points, and transition, that your eyes just read with ease and can evoke a sort of calm feeling. I believe it's all about balance. Sounds so simple, but very complex when applying the variables of its environment.

OCIN: The colours you use are always unique and elevated. What is your approach to colour theory?

MAV: Thank you. Thank you. I love doing colour research. It's one part of the process that really excites me, but I'm very particular in terms of application. When I'm making 2D work, I go ham on using trendy colours, but when I'm making objects that are permanent in the world, longevity takes precedence.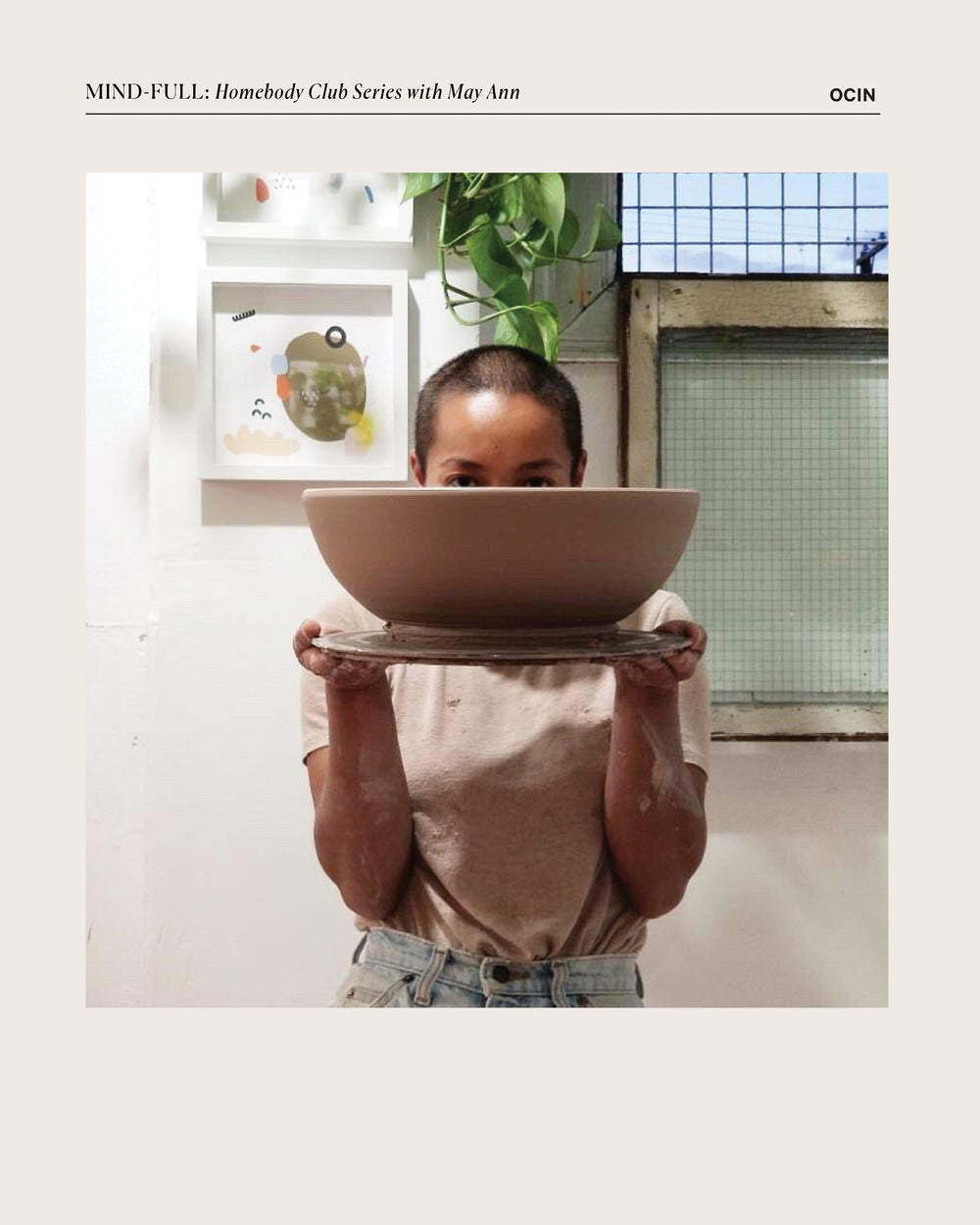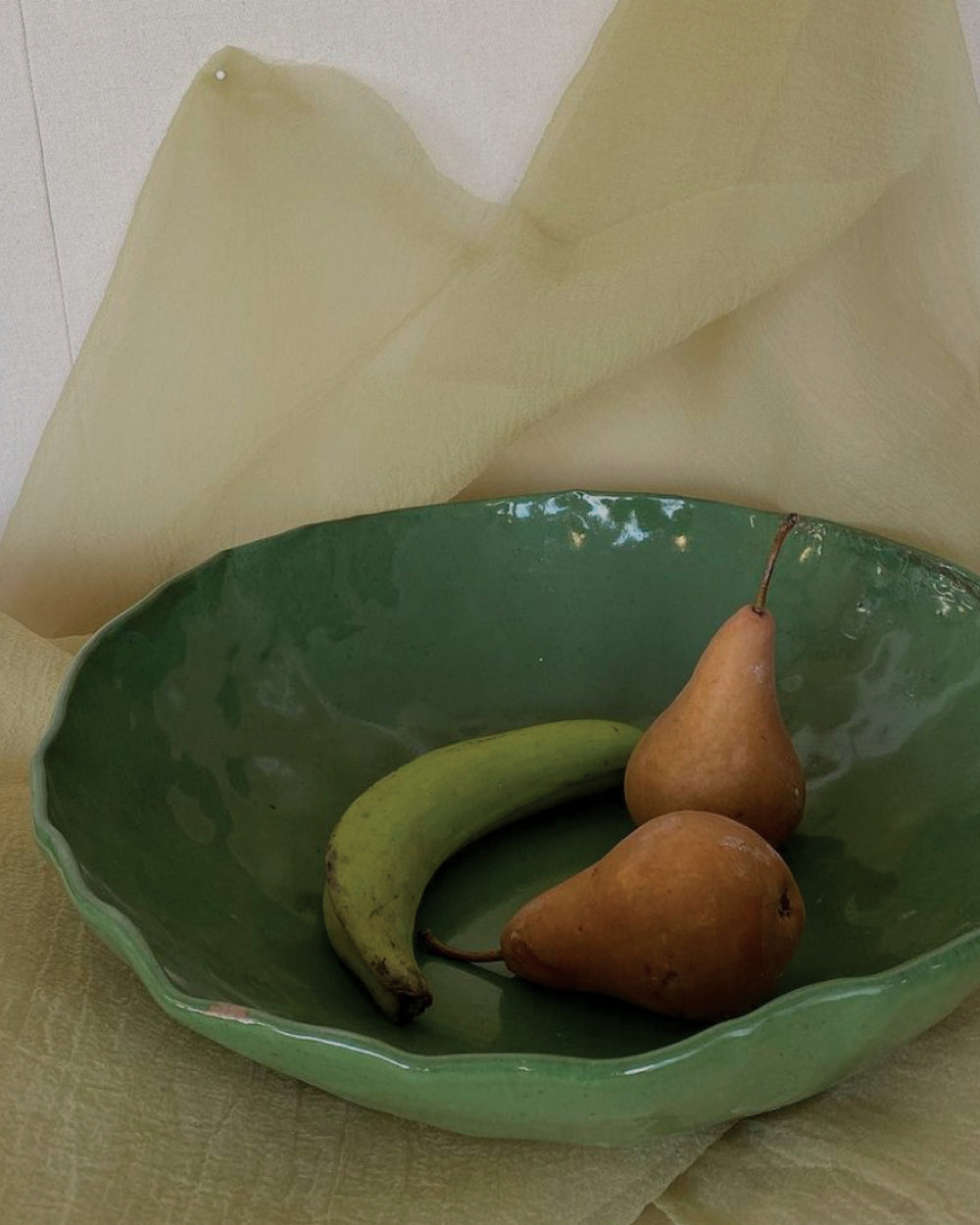 OCIN: We are always working to build our Collective, a space where we hope to inspire and be inspired. The community you've built through Studio Fundamentals is one that inspires us, and we love how your workshops are accessible to every skill level. What have you learned through teaching workshops and Studio Fundamentals' community in general?
MAV: I learned that I love teaching, the power of investing in people rather than the algorithm of your social media platforms, and most importantly, I learned that a business does not have to compete with others to succeed. The best part is when your happy place becomes someone else's happy place, it's pretty f*cking awesome.
OCIN: How have the current circumstances affected Studio Fundamentals, and what can we do to support local artists? Who are some other artists we should know about?
MAV: I think the pandemic and BIPOCs being fed up with white supremacy bull sh*t, has caused some positive shifts on how people go about things, and so did I. We were all forced to educate and internally analyze ourselves. The current events definitely changed the way I run my small business. One piece of advice I have is to champion your local BIPOC artists and designers. Actually, let me rephrase that — champion your BIPOCs. 
Here are some artists/designers whose work and character I like:
Ami Like Miami
Hee Jun Ahn
Jake Kimble
Serisa Art
Amanda Huynh
Donnel Garcia
Jackson Heseltine
OCIN: With the rise in popularity of ceramics, especially on social media, how do you stay inspired to innovate and create? What are your tips to small artists who are struggling to stay creative?
MAV: Although I do look at what's trending out there, it's not the driving force of what I do. I see opportunities beyond what objects can provide and that's what I mainly focus on.
Ceramics is just one area of interest for me, therefore if I'm not feeling it, I don't pressure myself to make anything and I just invest more time on other things. I love learning new skills and I love learning them from people who are passionate about their medium. Currently, I am learning how to sew from an amazing maker/teacher, Kyle Parent. Some advice I offer is to keep learning – it'll keep your imagination alive – also, don't wait for inspiration to come to you, go seek it. 
OCIN: Where do you see Studio Fundamentals in the next few years, and what upcoming projects can we look forward to?
MAV: Currently, I am working on expanding Studio Fundamentals beyond ceramics. I'll leave it at that to keep the suspense. 
"Everything has a foundation, a fundamental.  I believe in the importance of knowing the fundamentals of things for us to be able to develop a humanitarian way of thinking and evolving."