Chapter 1 /
Sharing Stories
Mind-full with Lyndsey Chow
Words: Talya Wong
Interview: Lyndsey Chow
Photos: Miriam Brellenthin


Clothing is a universal item. However, how we consume fashion comes with a choice; a choice to work with or against our earth. Fast fashion is profoundly responsible for fashion's waste crisis which furthers the number of textiles that end up in landfills and overcrowded flea markets in regions like Latin America, Africa, and Southeast Asia.
In response to this crisis, the concept of slow fashion has emerged and grown as a way to capitalize on quality, rather than speed and time. This includes the quality of materials, thoughtful and ethical sourcing, and intentional buying and wearing. Ultimately, this slow movement approach both considers and prioritizes people and the planet through sustainable methods. Hey Jude is a store that we believe encapsulates this concept beautifully.
Co-founded by Lyndsey Chow, Hey Jude is a design-inspired vintage shop located in Vancouver, Canada's Gastown neighbourhood. The idea for the shop initially bloomed as a pop-up store, stemming from inspiration that she and her co-founder Lauren seized from a 2010 trip to New York where they noticed a wide range of pop-up stores – a retail space that they saw Vancouver lacked. Years of pop-up events in various Vancouver neighbourhoods later, their current storefront in Gastown became permanent.
For Lyndsey, thrifting pre-loved items is a familiar hobby that she first learned at a young age from her mother. Starting Hey Jude was a unique way for her to combine her creative eye for design, passion for clean living and sustainability, and love for community. Hey Jude specializes in contemporary-style pieces that are each hand-selected and crafted into seasonal collections. Through the hand-selection process, Lyndsey pays close attention to the materials of each piece to ensure that only natural fibres like wool, silks, and cotton are being recirculated into their shop for customers to pick from; a detail that is important in outputting quality articles that are long-lasting.
In addition to supplying vintage clothing, Hey Jude has grown to supply an array of independently created products by both local and international brands. Natural beauty products, small-batch fragrances, jewelry, apothecary, home objects and art pieces can also be found at the store. Read more about Lyndsey, some of her favourite independent brands that she supports (and that we can too!), and her tips and tricks for second-hand shopping and making the most out of our wardrobes. This also includes an inside look into some unique ways that Lyndsey styles and wears her OCIN pieces, extending their life beyond use in the water. For inspiration on how to make the most of your OCIN piece and incorporate its versatility into your everyday life, check out Lyndsey's photos, below.
OCIN: When and how were you introduced to vintage?
LC: I was introduced to thrifting at a young age from my mom. She was the queen of finding quality clothing and interesting accent pieces for our home and getting creative with her finds. I didn't always appreciate how thrifty she was as a kid, but as I aged, I grew to love vintage pieces and how they can be transformed to reflect your personality + life. 
OCIN: How did the idea for Hey Jude come about, and what prompted you to open a storefront in Gastown?
LC: Lauren and I met back in the early 2000's and we instantly bonded over our love of vintage and the creativity involved in styling ourselves. We would visit vintage shops around Vancouver and do weekend trips to Seattle centered around shopping vintage + seeing live music. We loved sifting through stores and coming out the other side with a few treasures. Our friends started to notice the unique pieces we had and would inquire about where we got them, wanting in on the action!  Most of them were turned off at the idea of having to put so much effort into finding a unique vintage piece. This was an ah-ha moment for us: we'd do what we love and put together an edited vintage collection, taking on the sifting + searching that our friends didn't want to do, and then offer up our beautiful finds for them to enjoy. 
This was all only an idea that "someday" we would open a shop together, however we didn't really have a plan, but it wasn't until we went on a trip to New York together in 2010 that we experienced a pop-up shop for the first time. We instantly knew that this was our way to test our idea back in Vancouver. A few months later, we hosted our first Hey Jude pop-up shop in Lauren's apartment; it was invite-only for close friends and family. 
Over the next 5 years we held pop-up shops around the city and also sold at as many markets we could. We popped up in Chinatown and Mount Pleasant and then finally had a pop-up in Gastown. Once we experienced Gastown, we knew it was the right fit for opening a permanent location. It worked out well for us, and the landlord of our space really loved our pop-up shop and offered us a long-term lease. 
OCIN: What inspires the aesthetic of Hey Jude? 
LC: Our aesthetic has been a natural unfolding of both of our styles and interests combined, it's kind of an unspoken language between us that comes mostly from intuition. During non-pandemic times, we find that travel is a major source of inspiration for us. Exploring new neighbourhoods, going to art galleries, soaking up nature or seeing some live music always fuels our creativity. 
Our customers are a source of inspiration as well. The beauty of vintage is that we can listen to what our customers are loving in the moment and try to source similar items in real time. It allows us to test new colour palettes, styles and silhouettes and engage with our community in a meaningful way. 
OCIN: What has the process of sourcing vintage for Hey Jude been like?
LC: Sourcing our vintage is such a fun and creative process for us; we love how hands on it is. Our buying is a little more dialed now that we've had the shop for 5 years and see what our customers like from season to season. Most of our sourcing happens when we take off on a road trip for a weekend or go down to the States for unique finds.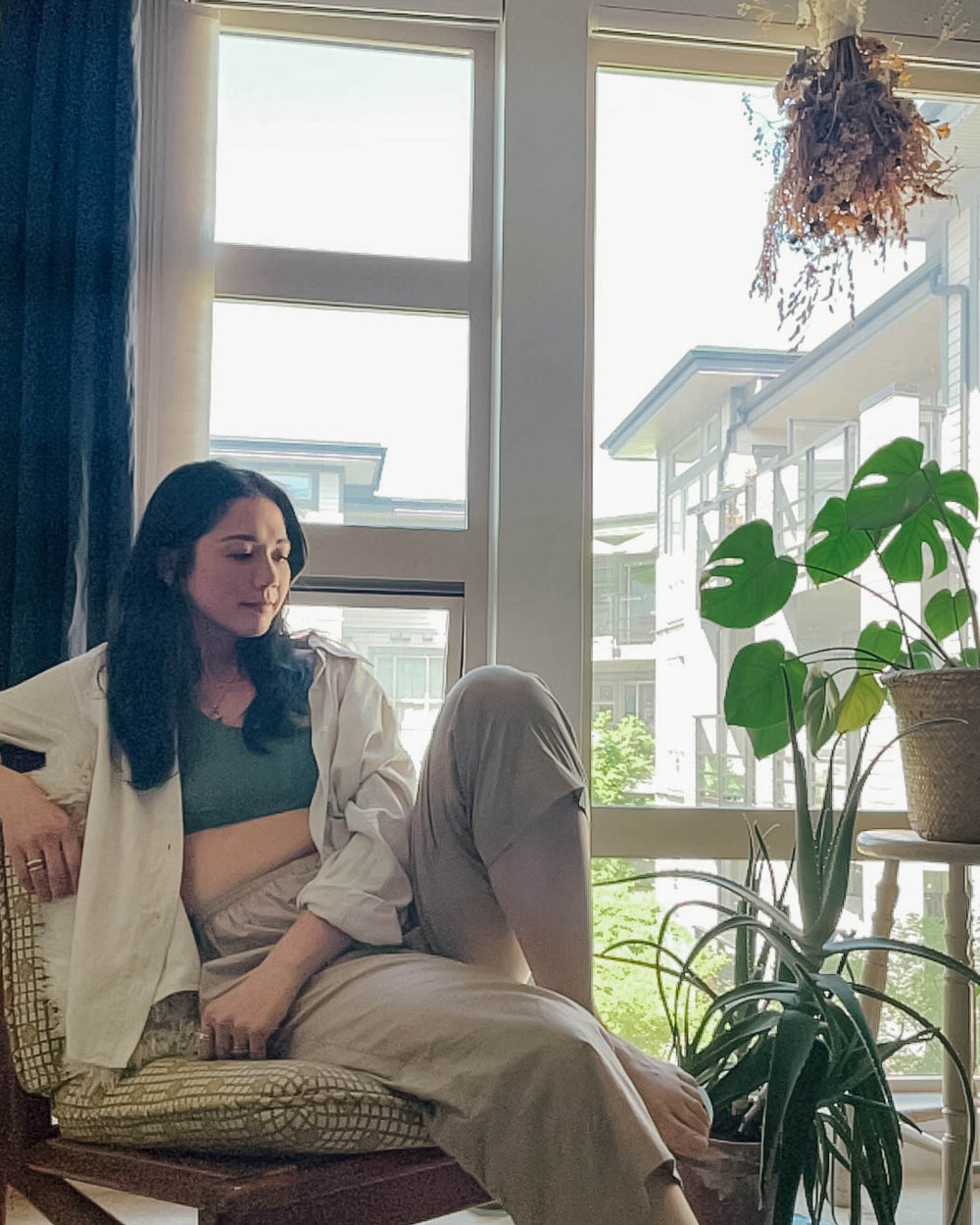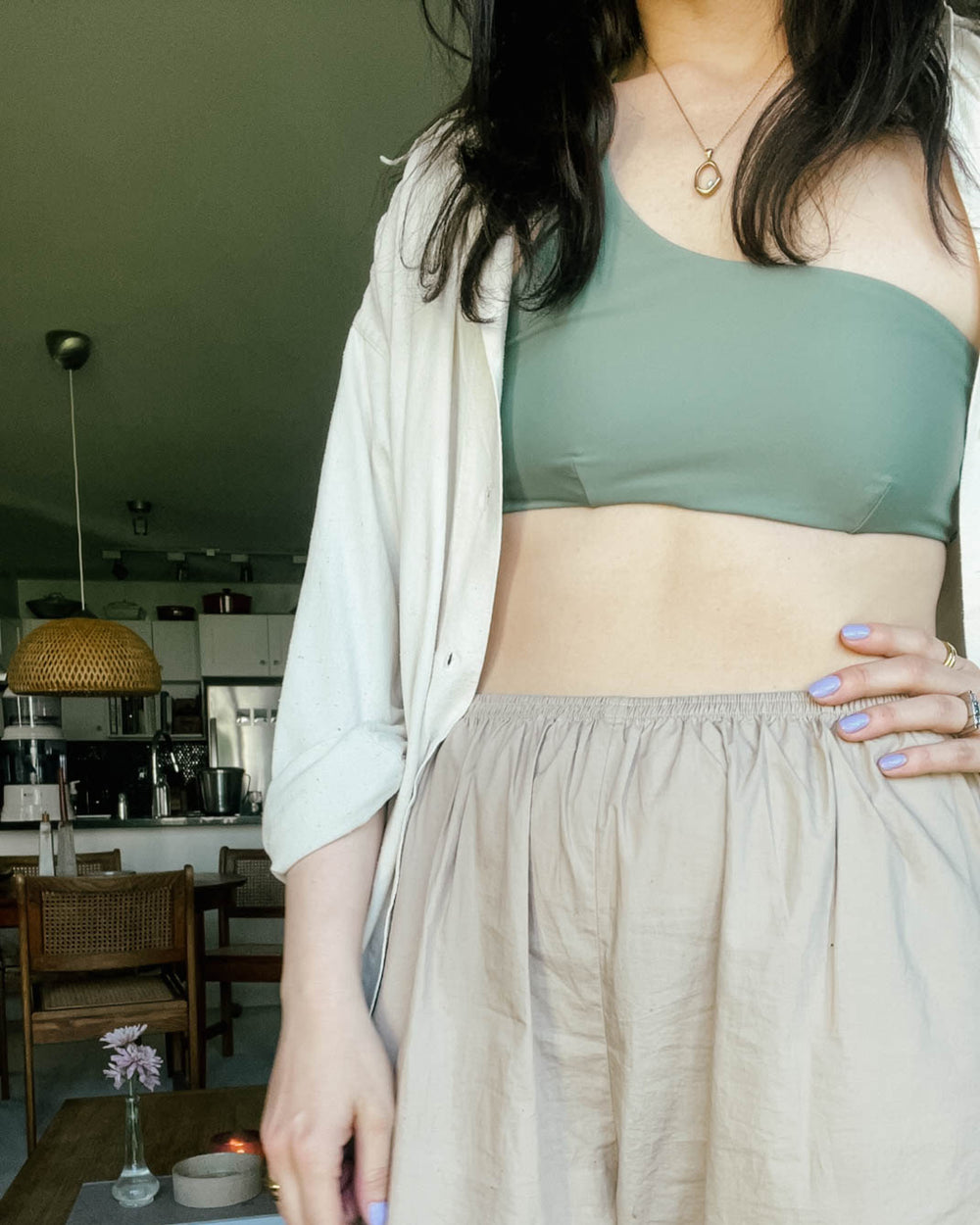 OCIN: Why is it important to shop vintage/thrifted?
LC: The clothing we wear is a choice we make every day, so shopping vintage is an actionable way that every person can reduce their footprint on this earth. By choosing to recycle clothing, you're not adding to landfills and you're also not using up new resources to create a brand-new piece of clothing. 
OCIN: Describe some of your favourite, one-of-a-kind finds.
LC: With every collection we release comes a new handful of favourite pieces. Our last spring launch was full of more raw silk and linen pieces, which I'm always drawn to when the warmer weather arrives. 
As for vintage homeware, colourful blown glass vases are a favourite. With so much time spent at home lately, it's a simple pleasure to get fresh flowers and put them in a beautiful unique vase.
OCIN: What are your tips for beginners looking to shop second hand?
LC: If second hand is completely new to someone, we would recommend starting out with a vintage shop where the selection is already edited for you and the experience isn't so overwhelming. 
If they want to venture into a bigger thrift store, we'd recommend going in with an open mind and a lot of patience while you give yourself plenty of time to go through the racks. Get your hands on the clothing and feel for quality types of fabric. If you find something that's worth keeping but isn't quite the right fit, alterations are an option to get it perfectly tailored to your body.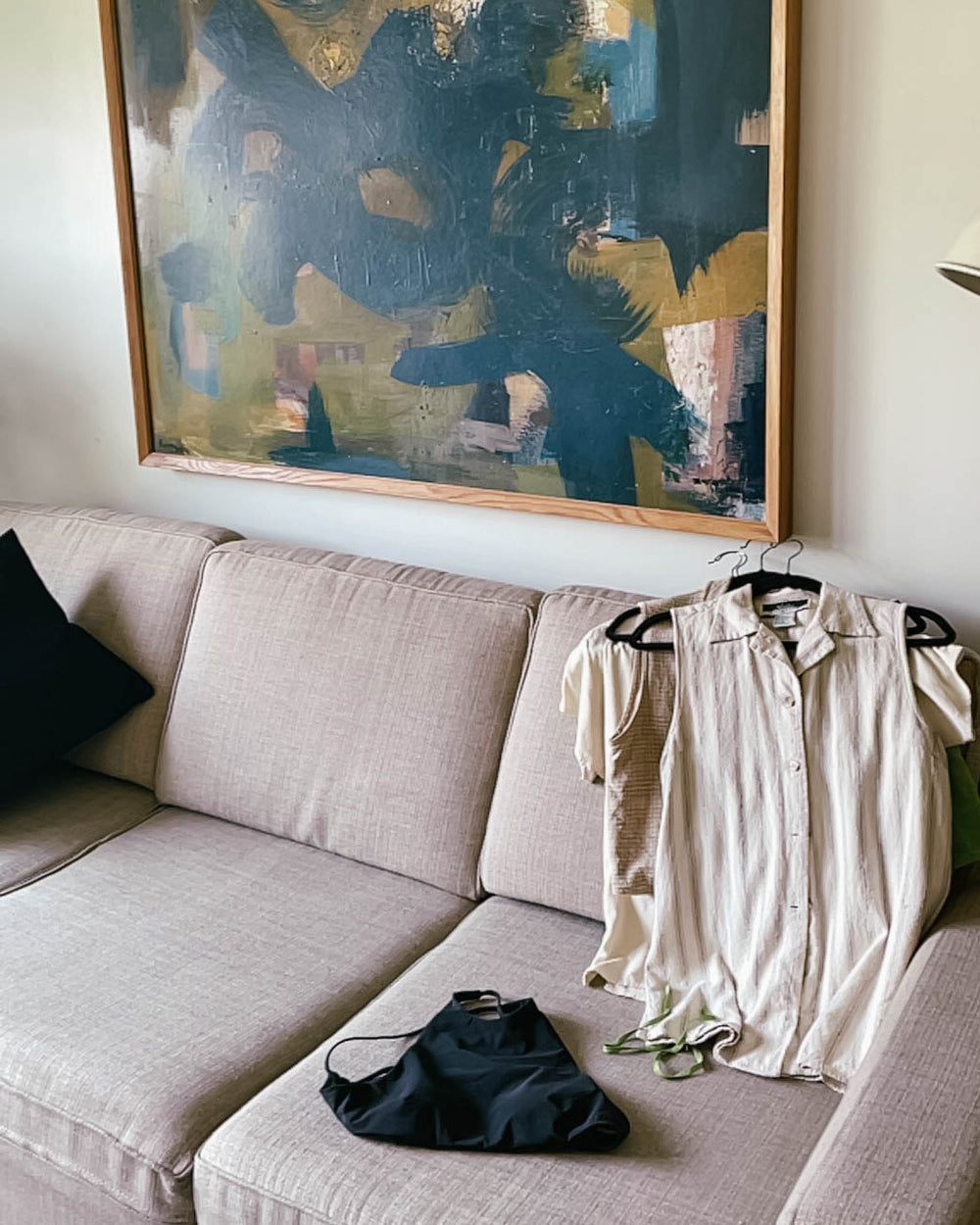 "I've grown to love vintage pieces and how they can be transformed to reflect your personality + life."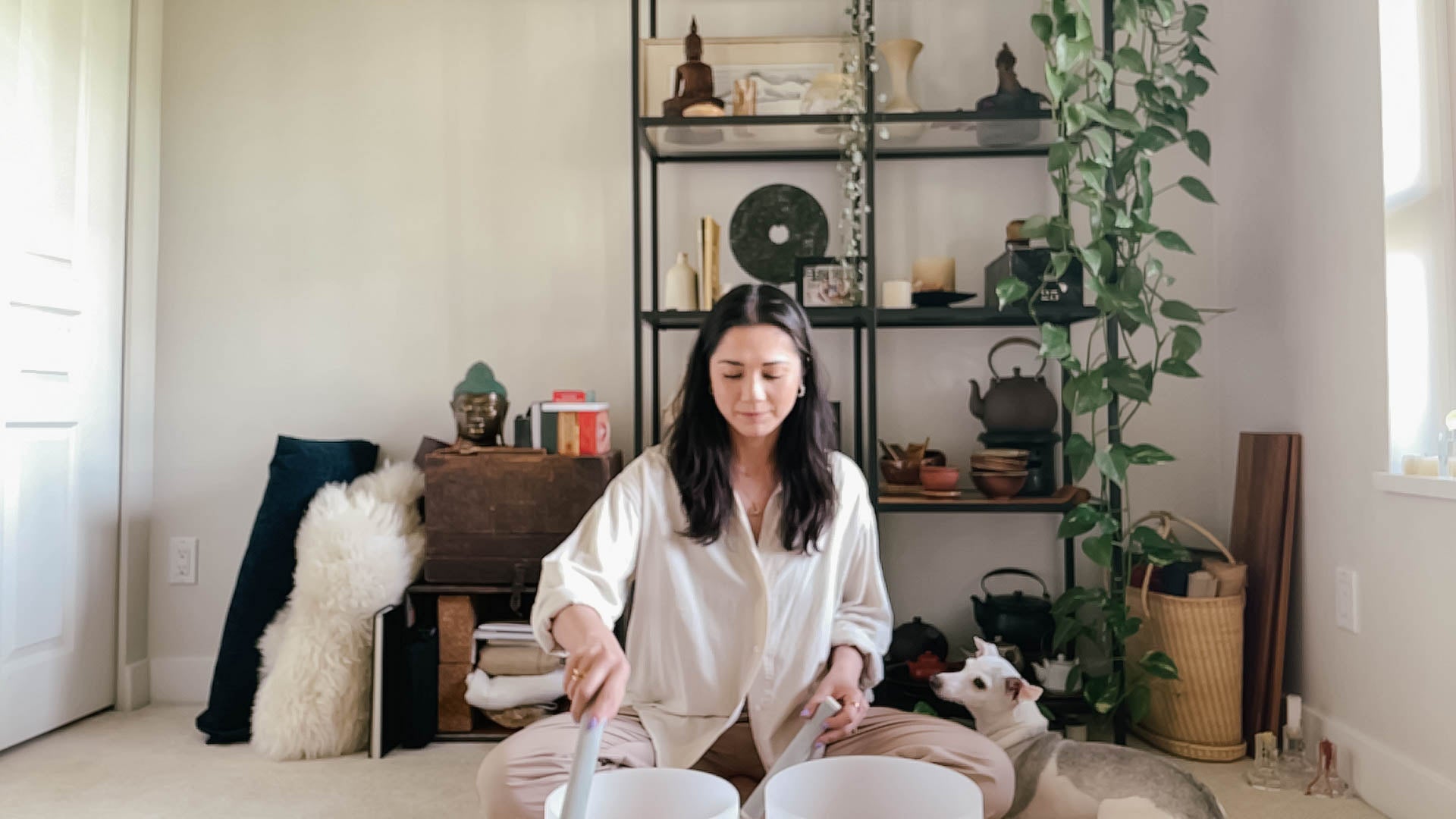 OCIN: What is your favourite multi-use clothing piece?
LC: Oversized silk or linen button downs would definitely be a favourite. These can easily be layered with a thin long sleeve in colder months and then worn unbuttoned as a cover up or knotted in warmer months.  
OCIN: How do you go about transitioning pieces between seasons?
LC: Layering clothing is an effortless way to ensure more of your wardrobe is in use throughout the year. Wearing a dress over denim, mixing in a silk knit turtleneck underneath a blouse or wearing blazers as a spring/summer jacket are some of our favourite ways to transition between seasons. 
OCIN: How can we take what we have and make them new (with clothing, and anything else you can think of)?
LC: A good tailor can really help with alterations to clothing to give them more life. Getting an item properly fit or making some slight adjustments to the silhouette can breathe new life into a piece. General mending to denim or linen piece is also a great habit to get into. A quality piece is worth repairing! Some more DIY ways to extend a piece of clothing is to sew patches over rips, dye it a new colour (must be a natural fabric) or cropping a good pair of denim into shorts.  
OCIN: What are your favourite ways to upcycle objects that would otherwise go to waste?
LC: The key here is to re-imagine how an object could be used other than its original intention and also embrace imperfections since they can still provide a point of interest for your home. For instance, use a small vase to organize pens or other desk items, a beautiful cup for your toothbrush or a unique plate as a catchall dish. Make everything in your home thoughtful and special. It's such a fun way to express your personality through items in your space.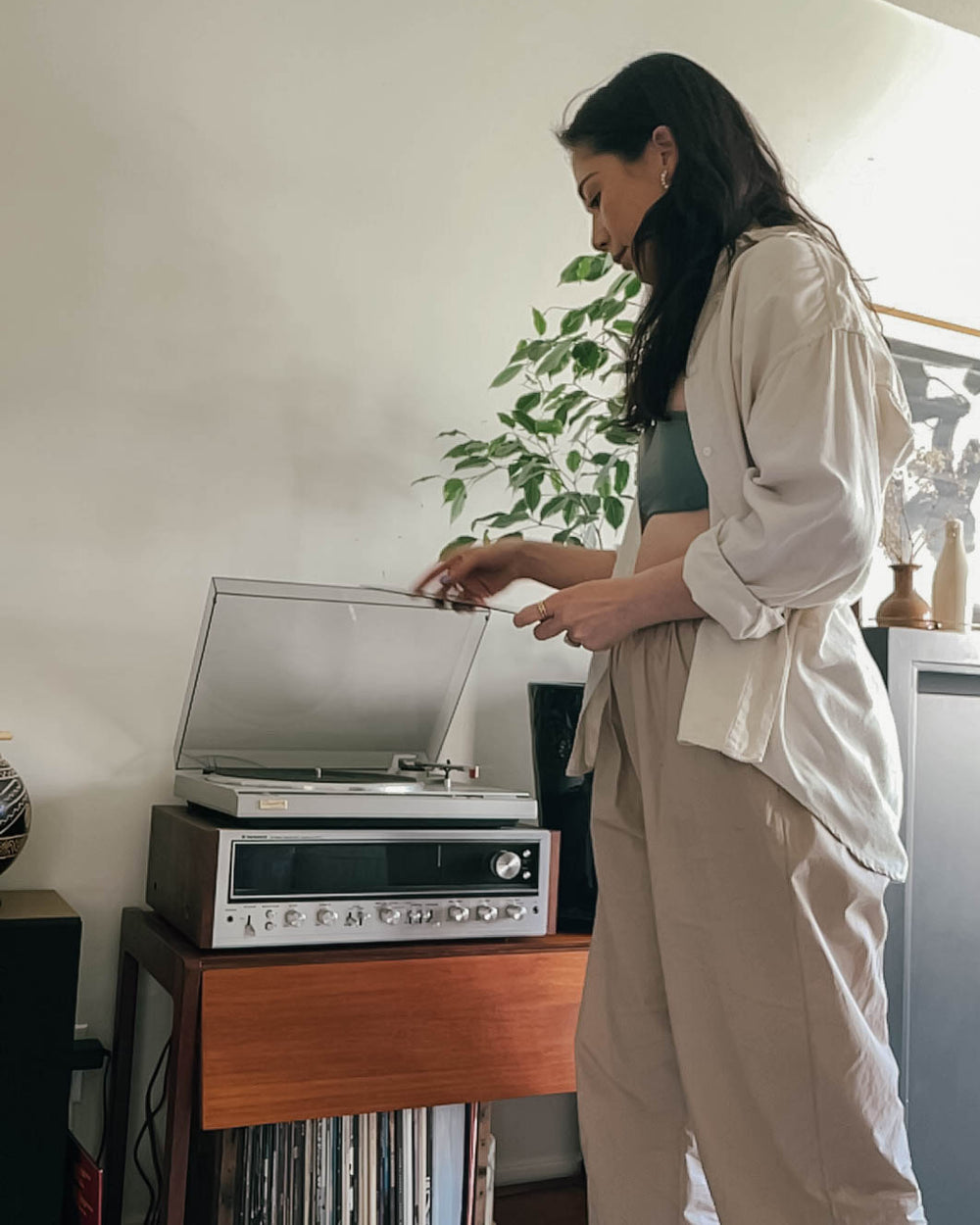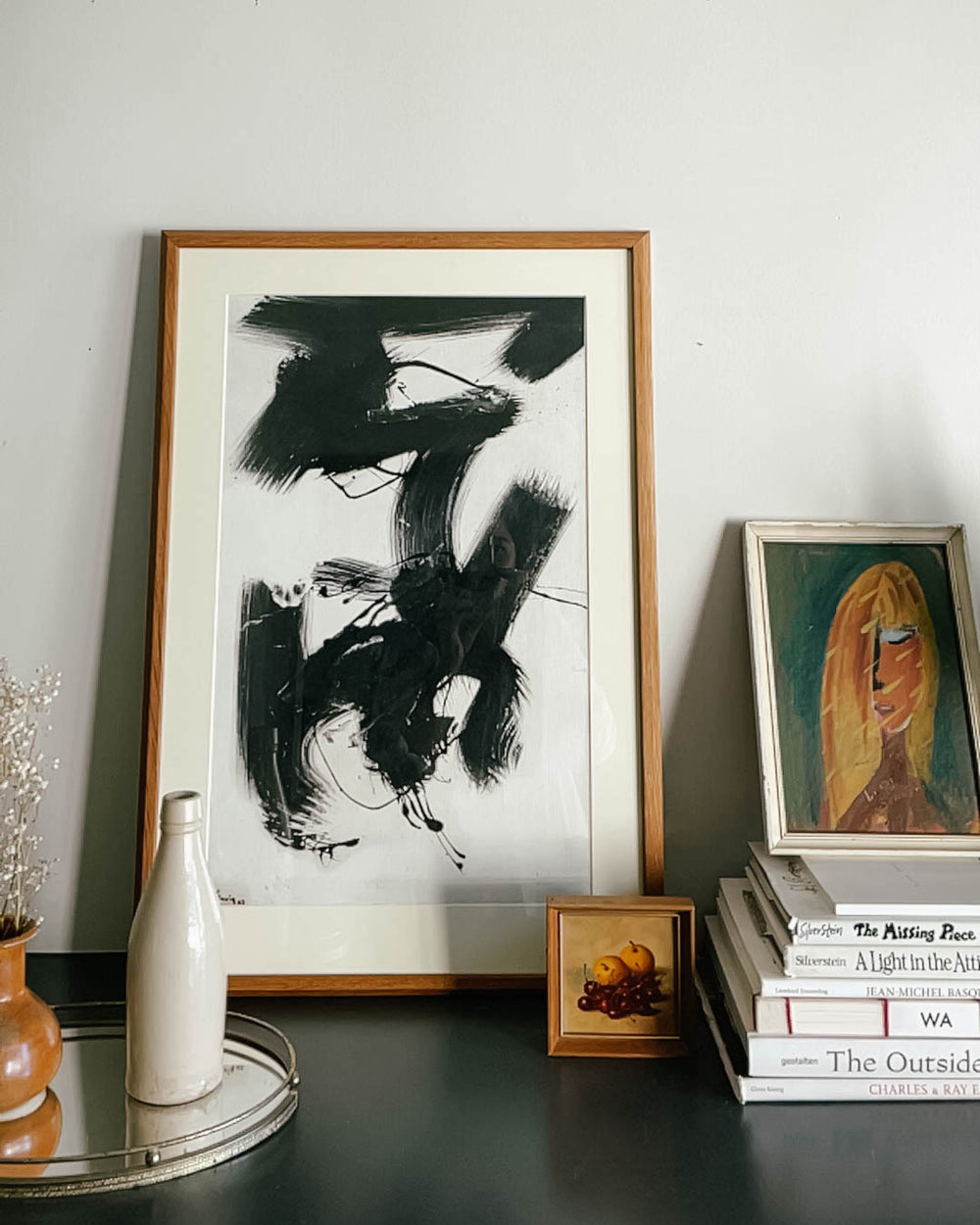 OCIN: How are you managing to stay curious and motivated during this time?
LC: Keeping up with a daily morning practice of meditation and some form of movement keeps me in tune with my natural rhythms and prepares my mind + body for the day. Motivation is part of that rhythm, so making space in the morning is so important. 
Getting out in nature and learning some new skills has kept me curious. I started to learn to play the guitar and also got back into horseback riding lessons (after a 20 year break, ha!) 
OCIN: What are some small, independent brands we should know about?
Sea + Pattern – makes beautiful beaded jewelry and interesting homewares. 
Hannah Emile – vintage inspired handmade leather bags
Nectar – A balancing facial serum with CBD
Mahnal – stunning contemporary brass jewelry
OCIN: What can we look forward to from Hey Jude in the near future?
LC: This last year has really shown us what being present truly means! We're taking things one day at a time for now and really focusing our energy on optimizing our online store experience.