Chapter 1 /
Sharing Stories
In Conversation With Acid League
Interview: Rae Drake, Co-founder and Creative Director of Acid League
Words: Courtney Chew 
Images: Via Acid League

Acid League aims to pioneer a new way of championing gut health; one that is accessible, approachable, and appealing to the eyes as much as the palate. The brand has only been around for three years, but has grown tremendously, expanding their collection to over 100 unique products and a team from 4 to 40. 
I connected with Rae last year and had the opportunity to learn first hand about their vision and what they are hoping to create with Acid League. Since then, I continue to be incredibly impressed by their accomplishments and the premium products that they experiment with, engineer and introduce to their widespread community. 
I am very excited to have their innovative products at our birthday event on August 14, 2022, for our first inaugural "Arcanum" pop-up and showcase, hosted at The Polygon Gallery. The intention is to highlight brands who's products inspire us to connect with ourselves and each other, and I love the idea of ritual that Acid League's products inspire, in connecting our daily routines with the importance of strong gut health that is essential for an optimal mind and body.
Rae shares with us what motivates Acid League, how she uses their products in her day-to-day, and the kind of community rooted in compassion and curiosity that the brand is founded upon. 
Shop Acid League Living Tonics at Arcanum on August 14th at The Polygon Gallery, and read the full interview below.
OCIN: Tell us a little bit about Acid League and what makes you unique.
Rae Drake: Acid League is a pioneering pantry brand creating acid-forward essentials like vinegars, sauces, condiments, dressings and drinks, all designed to appeal to the eyes as much as the palate. What makes us unique is our team culture; we are a collective of food scientists, multidisciplinary creatives, culinary friends and fermentation fanatics who are all obsessed with experimentation and flavor innovation. Since launching in 2020, we have not only ideated but launched over 100 unique products to our community across both retail and DTC channels. 
OCIN: Can you tell us a bit about why you created the Living Tonics and how you hope your community will use them? 
RD: We saw a huge hole in the vinegar market; the category had changed very little on grocery store shelves despite the growing mainstream appetite for ACV (apple cider vinegar) and gut health. We asked, why can't you get living vinegars in interesting flavors given that you make vinegar out of almost anything?
Despite more and more drinking apple cider vinegar to reap the health benefits, no brands were really addressing the fact that the stuff tastes pretty awful. Our Living Tonics aim to solve that problem. They are a flavor-forward alternative to your grocery store ACV, with all the same benefits and none of the burn. Each bottle contains "living mother"—an unfiltered substance found in live cultures and each flavor has a different focus that's supported through premium ingredients and functional botanicals. Coffee Maple Chaga is packed with adaptogens and antioxidants to energize the brain while reducing inflammation. Passion Fruit Oolong blends honey and sea buckthorn berries for an immunity boost. Vanilla Manuka Spice is a digestive-supporting vinegar thanks to the Manuka honey.
OCIN: What kind of rituals do you personally tap into to access your most limitless self?
RD: I am not a morning person, but I am a beverage person, so when I get out of bed I go directly to the kitchen to start my morning drink ritual, which depending on my mood and the weather, is either a turmeric latte, or a living tonic with sparkling water over ice. Sometimes I do a meditation with Headspace, other times I just sip my drink in silence and let my mind wake up to the day.  It's just my way of trying to start the day slowly and intentionally before all distractions begin. 
Exercise has become a solid part of my routine over the last 12 months, and has probably become the most important ritual I have for connecting with myself. It's really helped me to evolve my self-talk into a positive voice that pushes me forward rather than drags me down.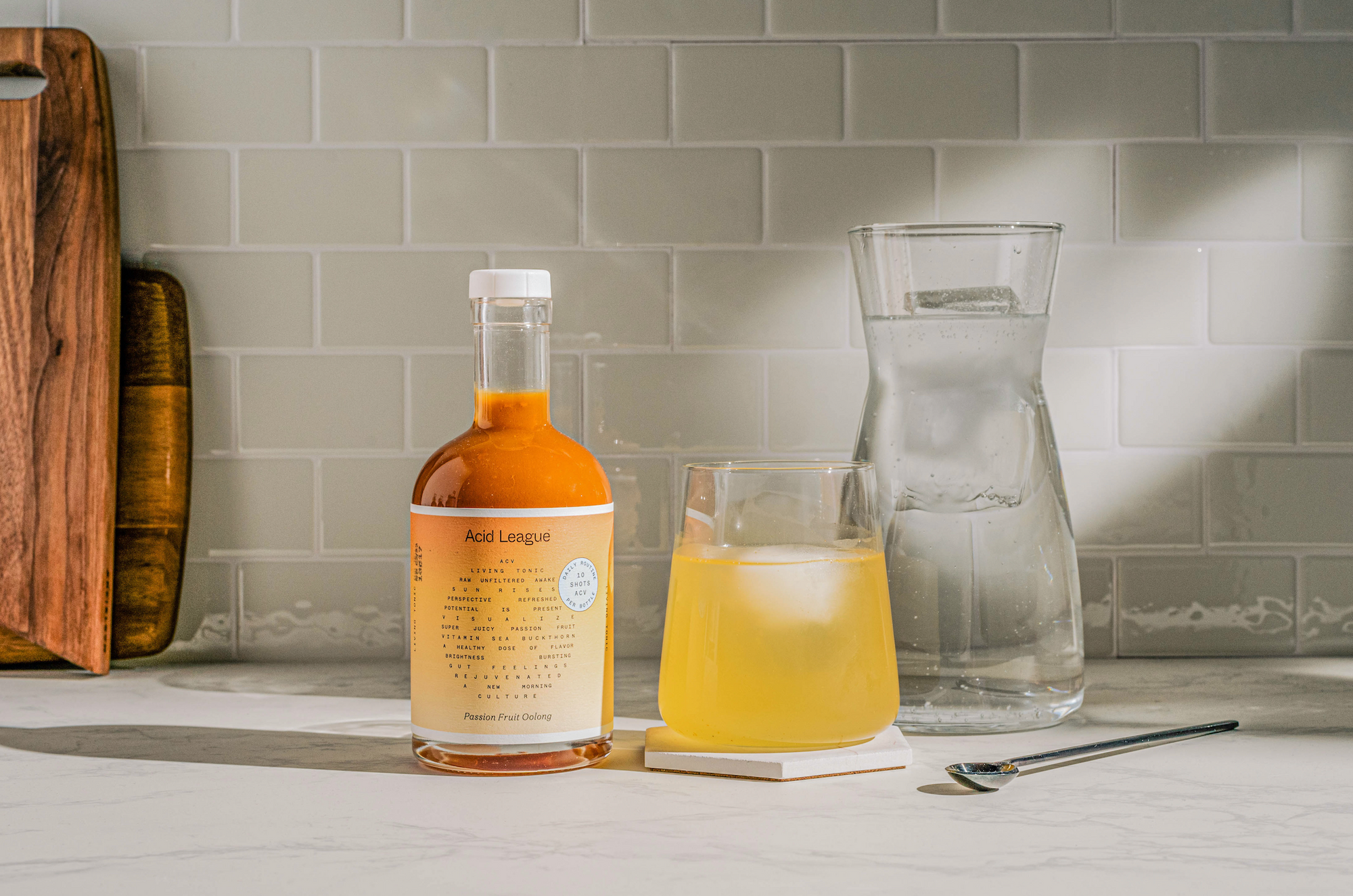 OCIN: At the core of ARCANUM, we hope to cultivate a micro universe that is rooted in compassion, understanding, kindness, non-judgement, and a deep love for all human beings, living species, and the planet Earth. How does this ethos relate to the work you're doing as well as the products you believe in and are putting out into the world?
RD: Acid League is trying to cultivate a universe that is rooted in community, collaboration, and creativity. Our team culture really works to reframe a negative word like failure as "experimentation" by allowing room for different ideas and exchanges of energy. I think our team's curiosity and compassion for each other is what allows us to create so prolifically—each product of ours is the result of a dozen people exchanging ideas and experiences and working together to share those results with the larger community. 
OCIN: OCIN's chapter III theme is "expansion"; a word that is boundless in meanings but to us, perhaps most notably, represents a lens into evolution, learning, awareness, and continual growth. How does the word "expansion" resonate with you and how you go about your life?
RD: Acid League is a fairly young team, and most of us have never launched a brand before, so all of us are learning in real time together and doing our best to support each other through this expansion. We've grown from 4 people to almost 40 people in less than 3 years. It's taught me that change is constant, growth is an iterative process, and nothing is ever final, so just focus on showing up for both yourself and others and the rest will follow. 
OCIN: Water and the oceans are constant elements of inspiration to who we are and how we ground ourselves. What is something the ocean has taught you, and what feelings does being in/around the ocean bring up for you?
RD: The ocean has taught me that you can't ever see what's beyond the horizon no matter how hard you look. Surrender to that mystery and find excitement in the unknown. 
OCIN: Is there anything coming up with Acid League that we can keep our eye out for?
RD: We just did a vinegar collaboration with Diaspora Co. and we are releasing our latest experimental edition, acid-forward freeze pops / freezie flavors that our team is incredibly excited about, coming soon.
"...change is constant, growth is an iterative process, and nothing is ever final, so just focus on showing up for both yourself and others and the rest will follow."