Chapter 1 /
Sharing Stories
7y98D - A collaboration for the Planet
This feature is a contributor series post for OCIN Magazine. 
Words: Maiko Miyauchi and Rina Pellerin from Ouro Collective 
Interview: Maiko Miyauchi, Rina Pellerin, Talya Wong and Jennifer Latour
Images: Jennifer Latour
Our Ouro collective began as an informal practice between artists of different dance genres, with the common goal of exchanging knowledge, and bridging the gap between various dance communities. In 2014, we started producing new work by amalgamating hip-hop, waacking, breaking, popping, and contemporary dance foundations, and performing on stages across B.C. Each dancer specializes in one of these styles and brings specific knowledge to the group. We are dedicated to creating performances that explore the full range of possibilities and identities the group represents.
We are thrilled to be working on our new project, 7y98D, for our eighth season, which began as a short film created by ourselves, German-born movement artist, RubberLegz, and co-directors David Ehrenreich and Jeff Hamada, centered around climate change. The title, 7y98D, was inspired by The Climate Clock, a public art installation created by artists Gan Golan and Andrew Boyd set on Manhattan's Union Square. The clock counts down the time left to avoid climate disaster, and we became aware of the piece in 2019 when seven years and 98 days remained. Faced with this stark knowledge, we were determined to bring "the most important number in the world"—as described by the creators of the clock—to dance audiences.
As the piece took shape, we quickly realized that the work could be translated into an array of art mediums, so we asked some of our favourite artists to contribute to the expansion of our project.
We worked with photographers on several occasions and found inspiration from their movement direction and their final images. Working with Jennifer Latour was a highlight in our past seasons and we were overjoyed to collaborate with her once more for this special project; a collaborative photo series as part of '7y98D'.

Jennifer Latour is a talented artist whose work teeters between fantasy and reality; finding oddity in the ordinary, and ordinary in the oddity. The inspiration for this shoot was to create something beautiful from recycled, unconventional, and discarded material – to give objects a second life, a different purpose, and to combine objects that would not normally be combined.
Continue reading below for our Q+A with Jennifer on our collaboration and messaging behind this special project. We hope you enjoy it.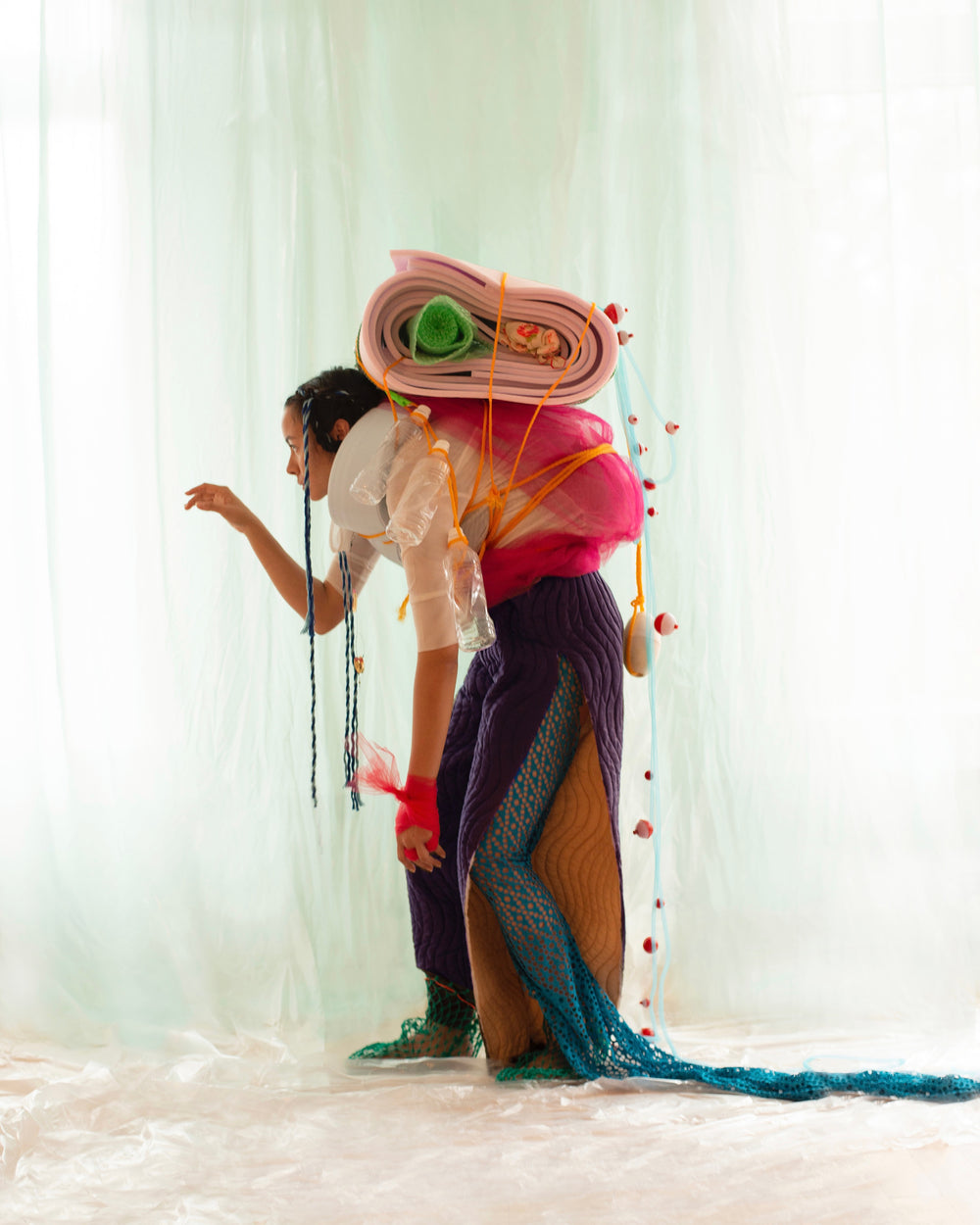 OURO: How did your background in Makeup FX impact and inspire your movement into photography, creative building and artistry? Your Bound Species series and our 7y98D project shoot are examples of work that you crafted with your own two hands – what about the process is most captivating to you?
Jennifer Latour: Being a Makeup FX artist, I am constantly surrounded by all kinds of cameras. I guess it was just a matter of time before curiosity and my hyperactive imagination had me make the transition into photography. I have always loved the power of a great film still. Whether it was on a VHS cover, a poster, or a magazine, the power of that still image would be the deciding factor on seeing the given show most of the time. There's so much mood, story, and character that you can create from a single still and it's the love of that that keeps me creating more – both practically and photographically. I honestly can't picture myself ever stopping. 
OURO: The OURO Collective exists to promote street dance/artist culture while collaborating with creatives to push important dialogue and creative innovation forward. What made you want to be a part of our three-part project? What message was important for you to convey about nature conservation and sustainable living?
JL: I love everything that Ouro is about and creates! I've had the immense pleasure of working with a few of the members on creatives and editorial shoots and their ability to make the collaboration process a pure joy is what keeps me craving more collabs! It was an easy and immediate yes to join in on this project. 
The messages being put out of course are important to me as well. Finding ways to be more eco-conscious and incorporate sustainable living with my own practice is becoming a habit now. I used to buy more and throw so much of it out, but now I take much more time in decision making and planning, and make it my intention to purchase things that I can see myself repurposing several times. 
OURO:  Art is often interpreted in a variety of ways by different people. What do you hope people take away from your series – whether a state of mind you hope to instill, questions you hope they ask themselves, or feelings you hope they feel?  
JL: I always prefer to let people take in art for themselves and to allow them to form their own narrative about the compositions I create. But, I would like the images to instill a sense of entanglement, strength, utility, and repurposing… alongside a feeling of calm that I hope will come through with the choice of colour palette. 
OURO: Creating and designing art is one thing, but constructing art that is wearable and interactive with dance is another. How, if any, did the movement of dance impact the materials used for this project? Can you share with us a little bit about how this designing process was different from other projects? 
JL: Due to this series being strictly for stills photography, I had a lot more freedom to use items that could not be used for dancing or heavy movements. I went for more of a part-utilitarian-part-editorial/cinematic approach for this project with my inspirations ranging from the ocean/fisheries, camping, the Junk Lady from Labyrinth, and Tim Walker's editorial photography, to name a few.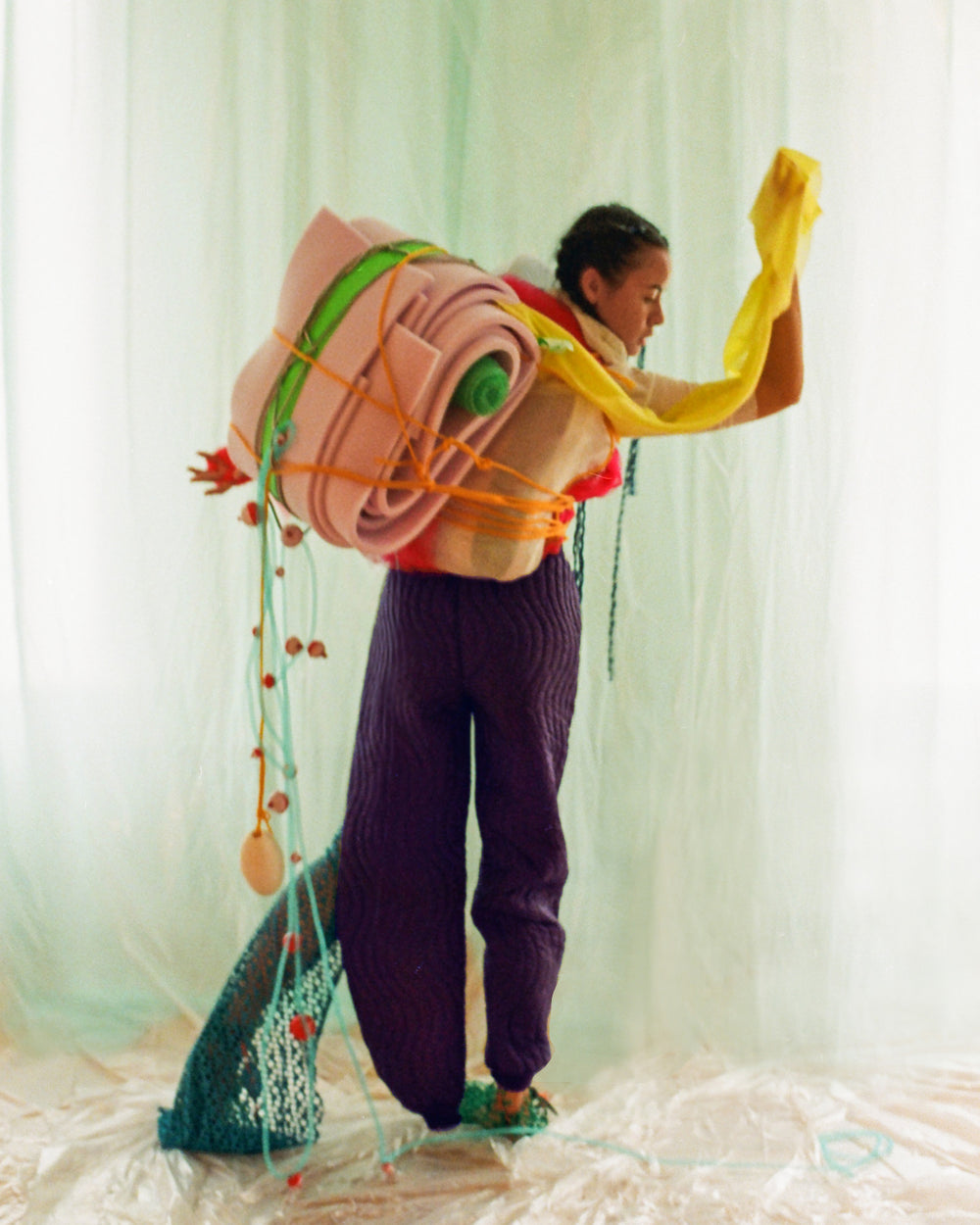 "Finding ways to be more eco-conscious and incorporate sustainable living with my own practice is becoming a habit now."
OURO: What intentions, personal and/or professional, do you set for yourself when you work? How do the human relationships around you and your connection to nature impact your perspective on creating art? 
JL: If I am collaborating, I always begin with the intention to make the entire process as inclusive, communicative, and fun as possible. If I'm left to my own devices to design/create, I always intend to not be too hard on myself and to visualize the project as much as possible. My imagination is so vivid and reliable so I trust that my intuition will guide me down the necessary paths to make the right creative decisions. 
OURO: It has been such a pleasure to witness your creativity, vision, and work throughout this project. What was your favourite part of this collaboration with the OURO Collective? 
JL: My favourite part is always the shoot day. When everyone and everything comes together. I even like when things need reconfiguring and require quick solutions. I thrive on creative pressure but I never feel stressed as there is always a way to figure things out. With Ouro it's always so easy and fun and I absolutely love their energy, passion, and being able to witness their extreme talent to their craft!
-------
For more on '7y98D', view our full short film that inspired the photo series at the links below.
Nowness
https://www.nowness.com/series/just-dance/7y98d-ouro-rubberlegz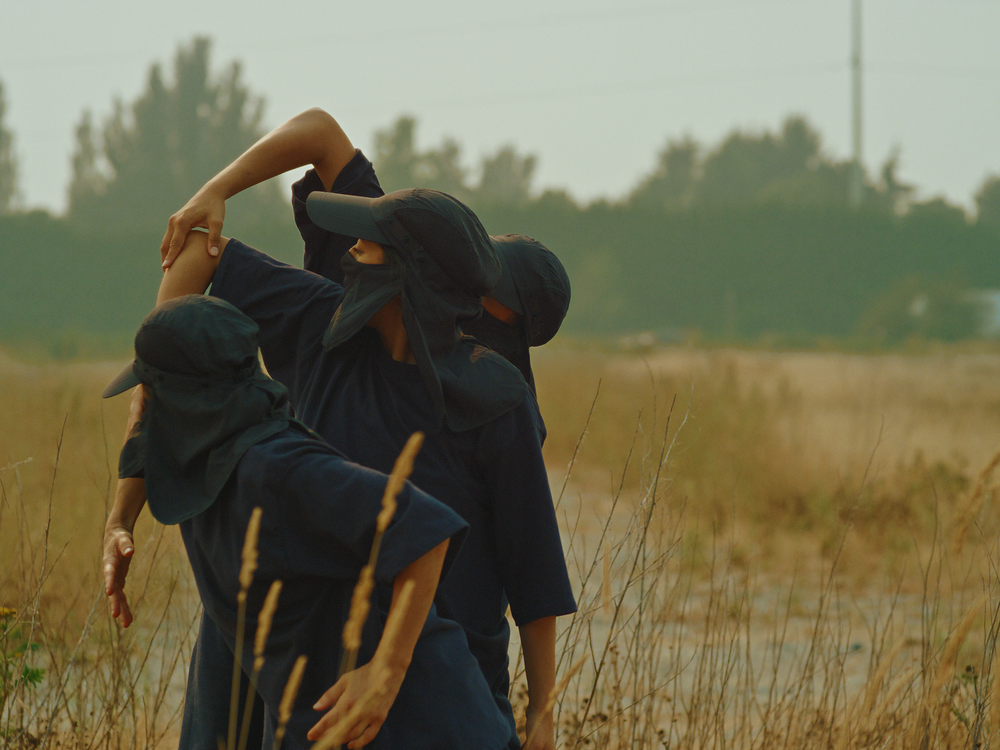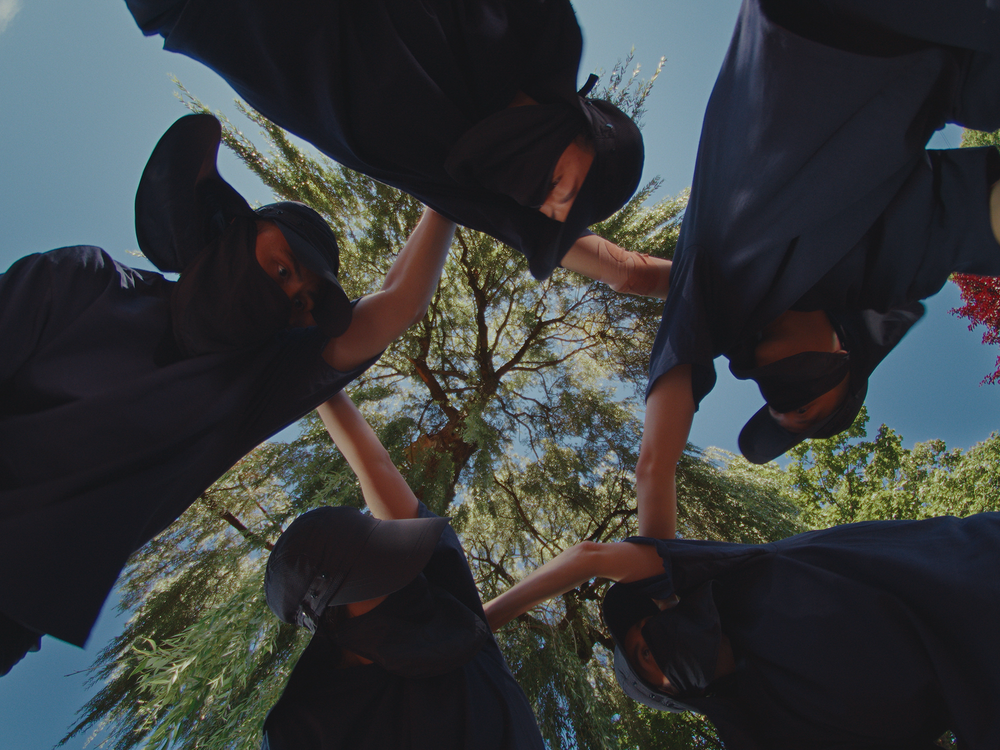 Stills from our short film '7y98D' - Directed by David Ehrenreich and Jeff Hamada. Performed by Ouro Collective.