Chapter 1 /
Collective
Ty Williams
Words: Courtney Chew
Photo: Jeremy Knies via Ty Williams
Illustration: Ty Williams for OCIN
Openness and positivity is what drives our brand. The idea believing that together we can accomplish so much if we lead with open hearts and open minds, is what inspires us and embodies the spirit of OCIN and our purpose.
Ty William's work oozes positivity and feel good vibes that we have been a huge fan of for a while, and so when the opportunity came up for an artist collaboration on our latest product release, we we knew we wanted to work with him. His art now lives on our OCIN Together Tote, which we are so excited to share with you. We asked him to interpret our ethos that "Together We are Limitless" and translate that message through a custom and signature illustration that would live forever on these bags. We also threw a couple questions his way, to learn more about his story, what he hopes the world will take away from his art, and what inspires and connects with him creatively. 
Read below for our interview with Ty, and pick up one our limited edition Together Totes here. Available in four colourways: Earth, Moon, Sunshine, and Ocean.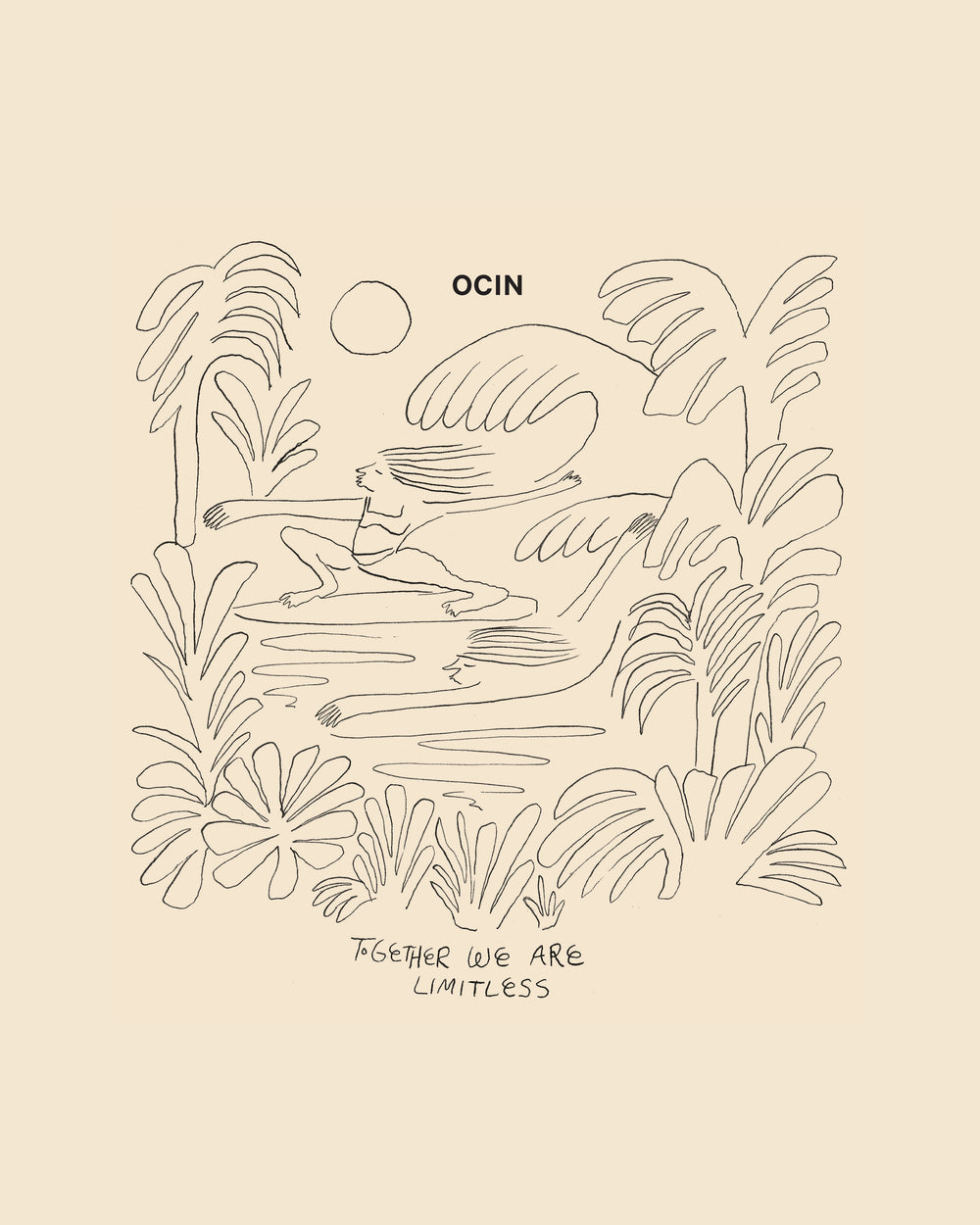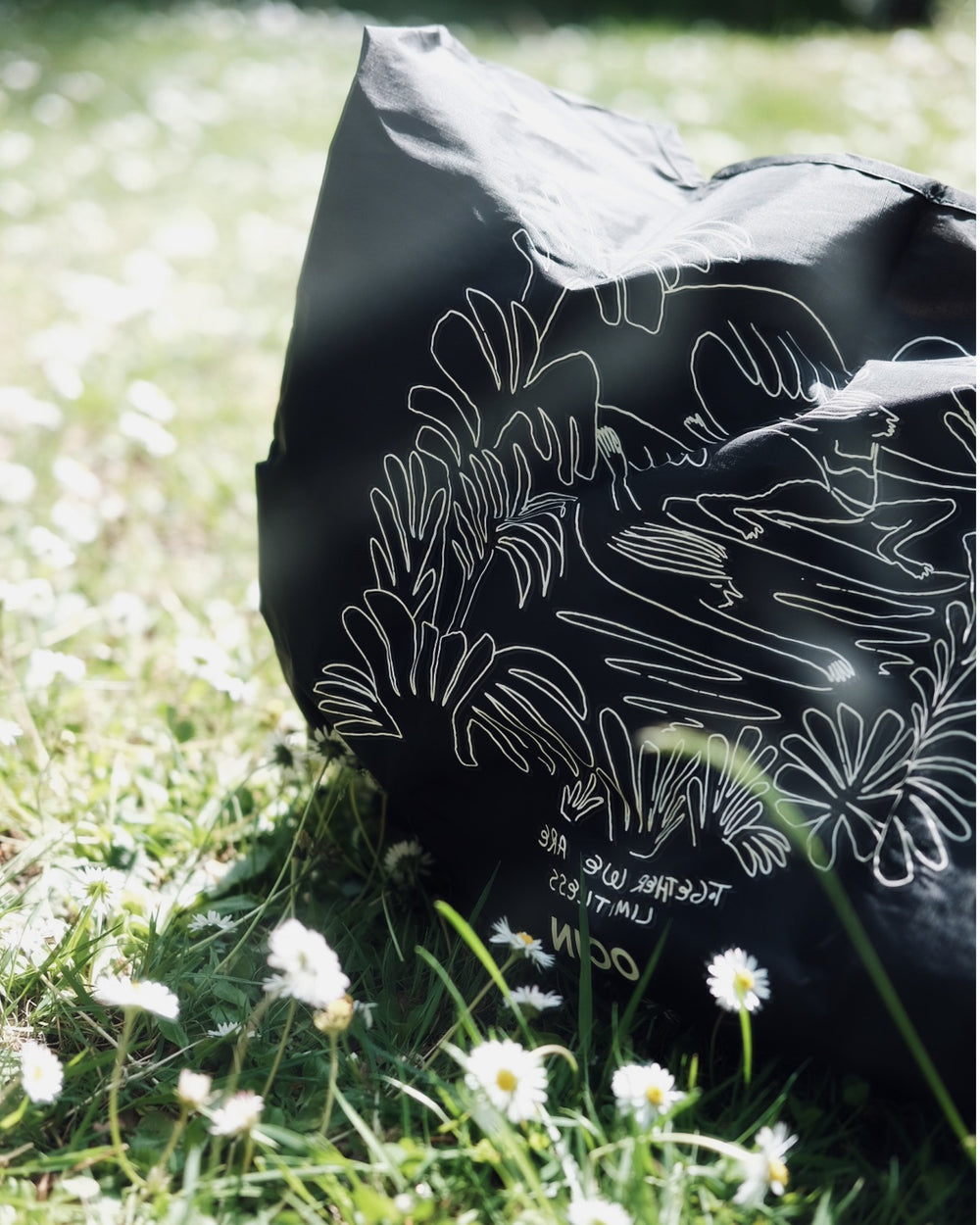 CC: Tell us a bit about your story. How did your journey as an artist start out?
TW: I have always been a scribbler/doodler – even when I was little, I would draw really detailed visual stories of dinosaurs and jungles etc. (my mom was a proponent of arts and crafts with us growing up)...I guess if anything I have regressed as i've aged, and my "art" (if that's what we are calling it) is more feeling based and less literal…I kind of tend to make things that I want others to feel comfort with or enjoy. It brings me some peace to make things that others may enjoy.
CC: From paint, to pen, to ink, can you give us a bit of insight into the mediums that you use and why you choose those specifically as your tools for creating?
TW: I have a pretty intense attention deficit and I (like many others) have pretty substantial anxiety…so, I really like making things in a timely fashion. I can't wait for oil paint to dry really, so I like inks and acrylics and scissors and glue (these seem to move at a pace I can handle and I can move onto the next thing). So, much of the creative process is me "getting things out" and I like to create and then step away from it to the next thing.
CC:  I love the feeling that your art evokes. There's a sense of positivity and carefreeness that shines through; an openness in mind and heart that complements what we are driven to inspire through OCIN as well. Is this an intentional thought and element that inspires your process? 
TW: I appreciate hearing that. I try to be as positive as I can and I think in terms of my work I try to convey that as well, even when I don't particularly feel that way. I think positivity and carefree living are constant "reach goals" for me and planting some visual seeds can't hurt.
CC: Travel seems to be a big part of your lifestyle. What is it about travel that is important to your work? Are there any other values in your lifestyle or passions that are important to you, where you draw the most inspiration from or that keeps you creative?
TW: Travel is a substantial part of my existence and it definitely is where I gather a lot of my inspiration. I think being on the move and feeling like i'm "going" all the time soothes and also feeds my nerves. As I get a little older and wiser I need to find a happier medium. I think last year I spent more time at airports than in any one home, but I got to work on some very touching projects and meet people that I'm sure I will have in my life forever. I think staying stationary scares me in some ways – and I think that may be something I need to explore.
CC: What are some things you do to help you clear your mind and feel good?  Any travel spots that do the same thing?
TW: Surfing is a constant ritual in my life, virtually any water activity brings me back to center. I love baths. I take them whenever or wherever I can, and I really stand behind the healing properties of water.  In terms of places in the world that help me feel good it would be hard to list/ but New England (Maine etc.) is hard to beat, and Japan is a second home as well (and the Japanese know how to soak in a bath).
CC: OCIN exists to inspire more open minds and open hearts in individuals around the world. We believe that when  we truly connect to the things and  people that we love, we'll  gain more awareness and commitment to protect and care for what we stand for, like the health of our oceans and our coastlines for example. What do you think we can do in our day to day to continue to inspire this connection and protection to the things we love, and inspire kindness and conscious actions around the world?
TW: I think communicating and setting reasonable goals locally is a great place to start. If it's cleaning the local beach on your morning walk or supporting local food growers, small steps lead to big steps. I also think throwing a smile whenever you can really is more powerful than we realize. (call me crazy)
"Throwing a smile whenever you can really is more powerful than we realize."
CC:  Similar to us at OCIN, you seem to collaborate a lot with your close friends that are in your community. What do you love the most about these collaborations with friends and how that impacts the final result? Any ones in particular that stand out as a personal favourite?
TW: I have had the opportunity to collaborate with some friends and then sometimes I work with strangers who sometimes become friends, which I find very cool. Lately, working on spaces and transforming something with friends is the direction i'm going and I really enjoy it; painting hotels, restaurants, public spaces…
CC: We believe art is a universal language that can break barriers, inspire creation, and connect people together. Do you consider how you art can play a role in inspiring these types of feelings and connectivity when you create? What is the impact you want your work to leave on others?
TW: If anything I create makes someone smile, or feel a little better than they did before, I have succeeded. I am very fortunate that I get to do any of the things I get to, so if someone enjoys it and it brings people together, I am honored.
Quick fire:
• Where's home?
In my backpack but i'm working on dialing that back. But home is somewhere between a pine tree and a palm tree…
• What song(s) or artist do you listen to inspire your most open mind? Anything by Arthur Russel, Gregory Isaacs, Chico Hamilton.
• Favorite thing to do when you're not creating? Surfing, laughing with loved ones, eating mashed potatoes, and baths.
• Who should we interview as a part of our Collective, next?
mike Lavecchia/ grain surfboards  or Dustin Miller (Filmer)