Chapter 1 /
Collective
Stacie Vanags, Annie McBride, Tim Aukshunas
Words by: Courtney Chew
Photography by: Tim Aukshunas
We are always so taken away by the people that we get to meet from all over the world, and Stacie Vanags, Annie McBride, and Tim Aukshunas are three examples of humans we admire and warmly welcome into our OCIN Collective. All based out of LA, we brought them together to share waves and document their love for the oceans for our OCIN Magazine.
Stacie — the Chair for the Surfrider Foundation LA Chapter and founder of podcast Salted Spirit, Annie — volunteer for the Surfrider Foundation LA Chapter and copy creator for fellow conscious lifestyle brand, Outerknown, and Tim — lifestyle and water photographer, braved the cold Pacific waters for us and captured some pretty unreal shots of their time together.
Vibing off the energy from the oceans and the high spirits from each other, this early morning sesh made for some beautiful shots and natural candids that radiated a good time that you can feel through the photos. Some dolphins even came in close to hang and join in on the fun too. 
Read our interview with them below.  
Stacie: 
Courtney Chew: Tell us about your connection to the water – what is it about the oceans, that connects you so deeply to motivate you to care for and protect it?
Stacie Vanags: For me, the ocean encourages a deep emotional response; extracting emotions from my mind and heart that I sometimes bury, or don't even recognize are present. It brings me joy, laughter, relief, stoke, fear, frustration, and ultimately is my form of therapy. It is the only place where my mind, body and soul experience 100% release and disconnection from technology. Even in yoga or meditation my mind wanders to my email or task list, but not in the ocean. Being submersed in that endless body of water forces you to be present, because it's ultimately about survival. It's not like walking onto a basketball court to shoot some hoops, you have some serious variables to consider when paddling out into the deep blue sea. I'm also fascinated with the fact that no surf session is ever the same, the conditions are always a genuine surprise and disallows for any form of comfort or routine, you have to paddle out with an open mind every session. After I had been surfing for a few years and had so much stoke, I asked myself, how can I give back to this thing that brings me so much joy? About the same time I started to recognize the devastation around plastic pollution, so I started volunteering with Surfrider Foundation, and haven't looked back. 
CC: As Chair of the Surfrider Foundation LA Chapter, what are some of your goals and campaigns for the year that you're prioritizing with your team?
SV: Surfrider Foundation has so many great campaigns, where do I start? If you are new to Surfrider, I'd recommend you join your local chapter for a community beach clean to learn more about the organization, meet some cool people and spend a few hours enjoying the beach! Once you learn that cigarette butts are made of plastic, microplastics affect many of our seabirds and ocean animals, and it's anticipated that we will have more plastic than fish in the ocean by the year 2050, it's impossible not to want to do something! Surfrider also has an amazing program called Ocean Friendly Restaurants (OFR) where we work with local businesses and encourage them to use ocean friendly consumer products for takeaway, straws upon request, instill more eco friendly water & lighting systems at their place of business, etc.  I also have to mention our Enjoyment committee since enjoyment of our world's oceans, beaches and waves is part of Surfrider's mission, so our volunteers get together for surfs, camping, dinners etc and are continually building an all star community. There is truly something for everyone at Surfrider Foundation, and we plug our volunteers into the program or campaign they are most passionate about to ensure it's a good fit! 
CC. What are some things you think we could all do to inspire more open and conscious minds around the world?
SV: Inspiring a more open and conscious mind for me personally all started with my exposure to international travel. When I travel to places like Spain, Nicaragua, Sri Lanka or South Africa, it's hard not to get inspired and learn about different types of people, cultures, and traditions. On these adventures I am always reminded that material things are unimportant; it's the experiences and the conversations that fill me up and bring me joy. I am also sadly reminded what a disposable society we live in here in the US, living based on convenience versus respecting or taking care of the resources that already provide so much for us. So I challenge you; close your eyes, pick a spot on the map, and go!
CC: How does OCIN make you feel! 
SV: As a former fashion designer myself, I will be the first to admit I'm particular about fabrics and design, especially with swimwear because as a surfer, there are only a select few that actually stay on! It was love at first sight for me and OCIN. I loved the earthy-smooth color choices, the cut and style, and when I slip into this suit I feel transported back to the 1960's. I've always had a love for the high waisted design and I envision the females who pioneered surfing before me and rode endless waves with laugher and joy. I've been wearing my OCIN kini non-stop in the lineup now that it has warmed up in Los Angeles, so OCIN has been spotted from Malibu to Venice Beach and back again! Thank you also for using plastic free packaging to round out your important mission! I LOVE OCIN!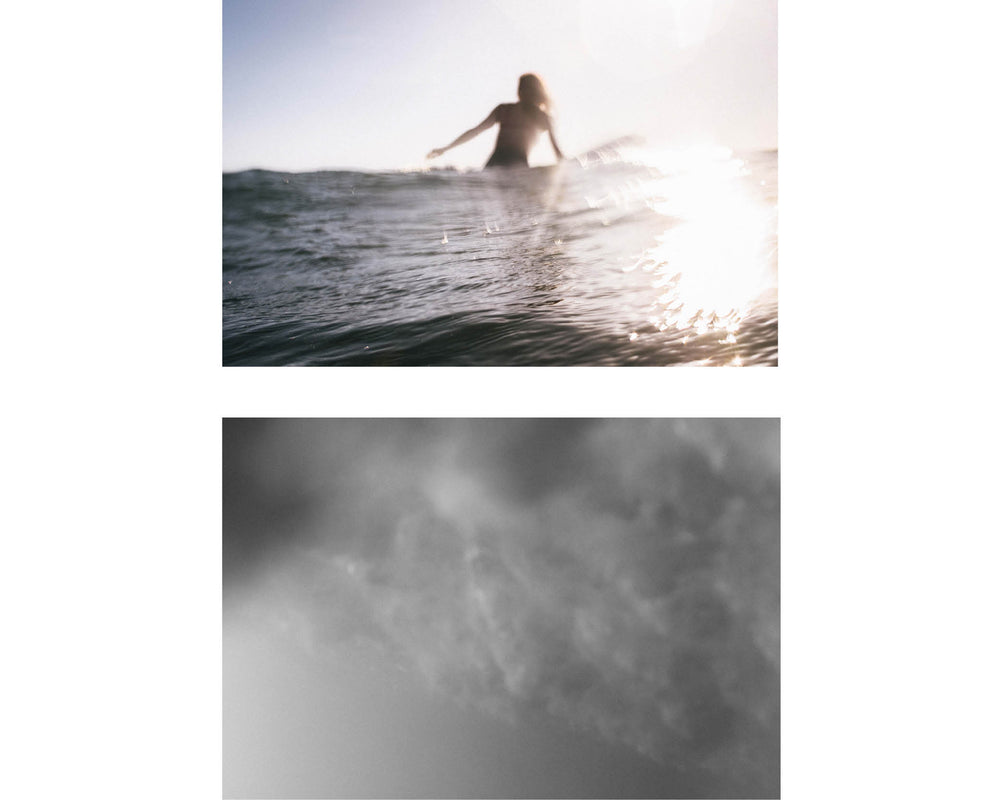 Annie: 
CC: What is it about the oceans that make you feel the most open and free?
Annie McBride: I spend most of my time playing right along the cusp, where the waves tumble into shore. In the surf zone there's so much going on and so much movement, so you really have to pay attention and be totally present. With all the variables to read—temperature, wind, waves kicking up on the horizon, animals (above and below), plus all the other folks in the water and how they're moving around—everything else on my mind usually slips away and, for a moment, it's just me floating in the ocean and that's when I feel free. 
CC: Your passion for the oceans and protecting the ecosystem seems synonymous with your lifestyle, showing up in what you do as a Surfrider LA volunteer and as a copy creator for eco-conscious brand Outerknown. What is one of your favorite initiatives that you've been a part of to protect our oceans? 
AMB: My lifestyle is very aquatic and my hobbies, volunteering, and work thankfully tend to overlap a lot naturally! One project that I am still proud of years later was the perfect blend of all my worlds and was a stellar example of the power of community collaboration (and healthy soil!). It was a partnership between the brand I was working for, local non-profits, a landscape architect (plus a grant) and, together, we turned a flood-damaged sidewalk strip in NYC into a healthy runoff-filtering bioswale! It took truckloads of compost, gravel, tools, plants, and loads of volunteers—from Google and Surfrider to local residents—to turn this project over. Not only has that plot filtered urban runoff, created habitat, and pulled in carbon, but it's also beautified the area in front of a low-income housing building. And thanks to Surfrider NYC volunteers, the swale is still in good shape (and hands) years later. More of that—small-scale community projects and permeable surfaces alike—are needed, especially in paved-over cities like LA and NY.
CC: What have you learned about yourself, the community, or the oceans, being surrounded by inspiring humans like yourself, dedicated to protecting and caring for our earth and each other? Do you have any tips that you can share with us, that help keep being your most conscious self, top of mind?
AMB: Our ocean is hurting in so many ways and unfortunately these issues are out of site and out of mind for most. Unless you have the luxury to be in or near the ocean consistently, you're not gonna change your lifestyle to protect it. As people who have gotten a look beneath the surface, one of the best things we can do is to build community around ocean conservation and get others in the water (of all backgrounds, genders, ages, everyone). Groups like Surfrider are so important because they fuse environmentalism and lifestyle, and make conservation accessible and fun. And groups like Stoked Mentoring, Waves for Development, Life Rolls On, etc. that focus on getting people into the water, who might not have easy access, are so incredibly important too because enjoying the ocean naturally slides into caring for it—it's our human instinct to protect what we love. 
CC: How does OCIN make you feel!
AMB: Feminine. It's the most hugging, shaping, figure-flattering, cheeky swimsuit I own.
"As people who have gotten a look beneath the surface, one of the best things we can do is to build community around ocean conservation and get others in the water."
Tim: 
CC:  You're an amazing lifestyle and water photographer. What is one of your favorite memories you've captured while in the oceans?
Tim Aukshunas: I have a lot of great memories being in the water but one that I always go back to was a few years ago with my wife at Mussel Shoals along the coast of California in December. I had just gotten my first camera fit for photographing in the water – the water was cold but conditions were perfect, so I had to get in. I got some rad shots on just one roll of film but on this day I really connected with the water.  While tides and swell can be predicted, the experiences while in the water cannot; it can be intimidating but it also has a sense of peace and serenity. I think this was the day that got me stoked on exploring and documenting my time in the water.
CC: Is there something you'd like people to feel or take away from your work? 
TA: Definitely! I want people to see real, authentic moments as they happened. These moments connect viewers with organic experiences and can take them somewhere. As imperfect as it may be, it is what makes the real world interesting and pure.
CC: Your work has you traveling around the world and meeting so many different people. How has being a  photographer changed your perspective or connection to the world around you and how you wish to document it, if at all? 
TA: Everyone has a camera and it's rad because it makes capturing and sharing moments easier than it has ever been. It's great because we can all be a photographer, but capturing content seems to be so focused on ourselves and less of what is in front of us.  We're missing experiences and moments by focusing on ourselves! For me, as a visual journalist placing value and focus on what is in front of us  gives me a voice. That is something that will always be valuable and keep me grounded and connected to people and communities.