Chapter 1 /
Chapter Notes
An OCIN initiative: The Ripple Effect
This past August, OCIN celebrated its second birthday and we've been trying to think of small ways to say thank you. Since the beginning, OCIN has existed to build community and a safe space to connect, educate, and inspire. As a young business, the past two years have only reaffirmed this value; our friends and family have always cheered us on and we've had the opportunity to collaborate with so many amazing brands and artists in our collective. 
But, we also know how difficult it is to start a business from the ground up, and have experienced a lot of learnings. We've had to pivot and be flexible, especially with all the wild and overwhelming events that have happened this year. Being a female, POC-owned brand, we empathise with many challenges faced by minority communities and small businesses, which are being amplified by the landscape of the current world. We recognize that we have the privilege to use our platform to support our community, and this has inspired us to create a program that can hopefully add value to the journeys of other entrepreneurs.
The Ripple Effect is an OCIN thought-sharing initiative that aims to give back to small businesses that are new, or might be just starting. We will choose one small business (within 0-3 years of growth), founded by someone in the BIPOC community, to share some of our connections, insight, and learnings. We have enlisted the knowledge from three creatives and entrepreneurs that inspire us, to make The Ripple Effect happen: Ann Kim, Priscilla Jimenez, and Esther Lee. In addition to some one-on-one mentoring, and creative and marketing support, the chosen business will also receive some time with me (hi!) and a feature on OCIN Magazine.
With our vision to connect human beings to their most open, limitless, and conscious selves, we hope that this initiative encourages you to take the next step on an idea or project you have been thinking about. Learn more about Ann, Priscilla, and Esther, and details on how to apply, below. The chosen brand will be announced on October 16th, on the New Moon.
The chosen brand of The Ripple Effect will receive: 
• 5 finished photos of your product taken by Esther Lee @eslee - an established photographer who's shot with incredible brands and personalities from around the world.
• 1 IG post and IG story on Andy Heart @andyheart - the thoughtful and curated website by Ann Kim: a Creative Director, Artist, and globally recognized content creator out of LA.
• 1 hour brand strategy video session with Priscilla Jimenez @priscilla__j - multi-disciplinary Creative Director and Brand strategist, who has worked with powerhouse companies from Warner Brothers Records, Sonos and Red Bull Music Academy helping them create and to tell stories together.
• 1 hour video session with Courtney Chew @_courtneychew - Founder of OCIN and a Brand and marketing strategist with over 14 years experience building brands, communities, operational structures, teams, and strategies for fashion and retail industry.
• Product and Brand spotlight on OCIN Magazine 
Who can Apply: 
• Small businesses in North America 
• Within 0-3 years of growth
• Founded by someone in the BIPOC community
Please apply here. 
Pending feedback and interest, we hope to be able to continue The Ripple Effect on a regular basis. We can't wait to read all about you and get inspired by your stories. Whatever the outcome may be, thank you in advance for sharing your heart and soul with us and choosing to be a part of our growing Collective. We wish you nothing but the best on your endeaveor.
Keep inspiring, keep creating. Stay limitless, 
Courtney and Team OCIN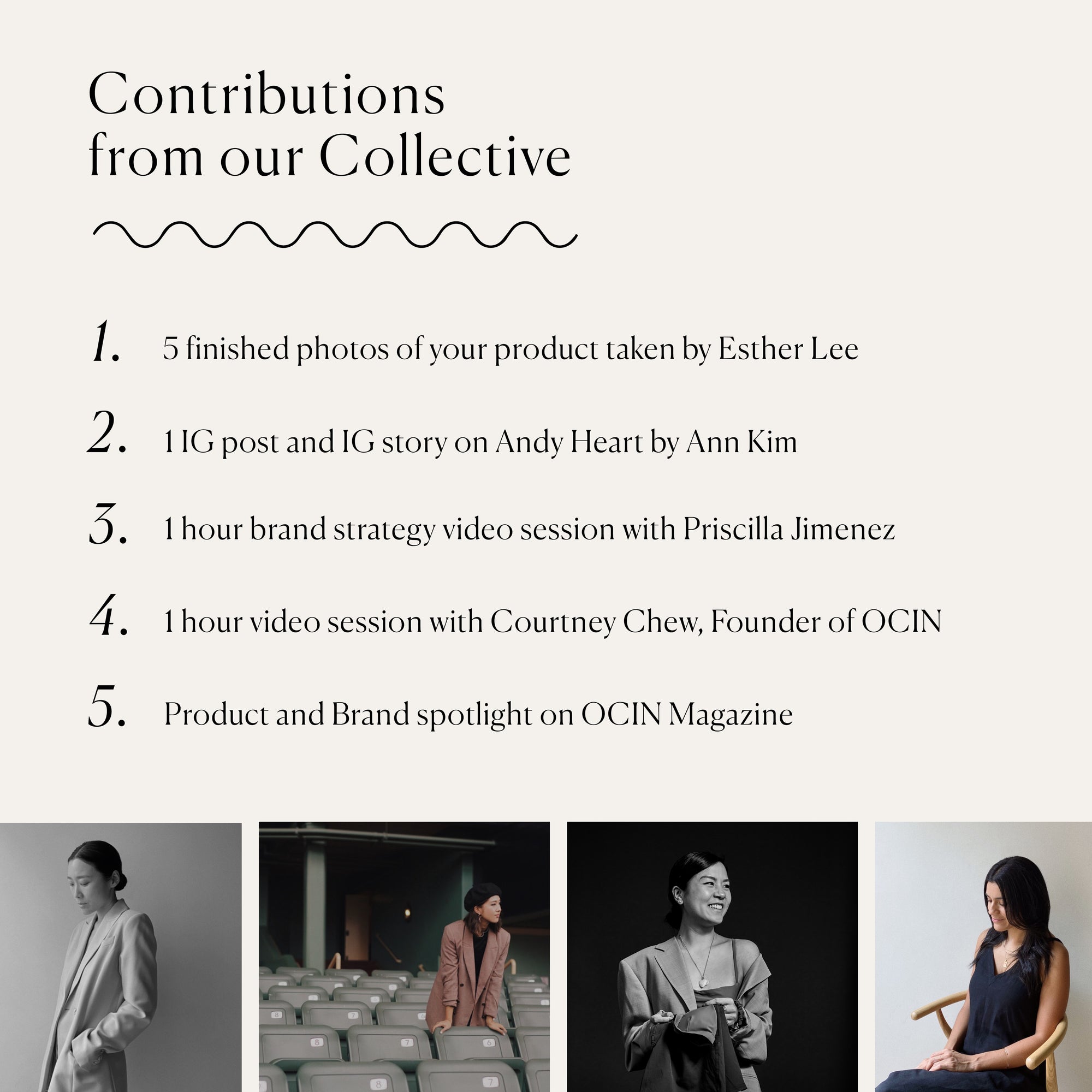 "Real change, enduring change, happens one step at a time."